3D printing technology has fundamentally changed the way we create objects, offering limitless possibilities across numerous sectors such as medical, automotive, aerospace, and more. While a 3D printer is one crucial part of the equation, the choice of filament also plays an essential role in determining the quality of the output you obtain. But what exactly is filament and why does its selection matter?
Understanding the basics of filament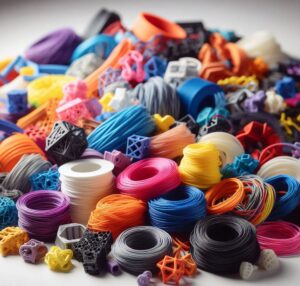 Filament often becomes the unsung hero — while much attention is given to the printer's mechanical precision, the filament feeds fuel to the process and enables the creation of diverse objects.
Filament is to a 3D printer what ink is to a traditional printer. However, it doesn't flow like ink; rather, it is a thermoplastic feedstock supplied in the form of solid rods or strands that are precisely fed into the printer. Depending on the printer type, these could be in diameters typically of 1.75mm or 2.85mm (commonly referred to as 3mm).
Following the design instructions, the 3D printer heats the filament up to a particular melting point. This melted filament is then extruded through a finely tuned nozzle onto the build plate or previous layers, meticulously following a preset pattern. The printer repeats this process layer by layer, gradually forming the three-dimensional object, thus the name "3D Printing".
The various types of filament materials available in the market each come with a unique set of properties. These properties not only regulate the melting and cooling conditions but also have a pronounced effect on the object coming out of the printer. The filament's constituents determine its strength, flexibility, durability, and even texture. Some filaments produce glossy finishes, and others might be more matte or rough. The hardness and resilience of the printed object will also depend on the chosen filament.
Color is yet another characteristic determined by the filament, extending beyond merely the aesthetics. Different filament colors can sometimes behave differently under the same printing conditions due to pigments affecting the filament's thermal properties.
Important to acknowledge is the environmental impact of different filaments. Some, for example, are biodegradable and made from renewable sources – such as PLA, made from cornstarch or sugarcane – while others might be petroleum-based.
Understanding the nuanced behavior and properties of different filaments is critical to making the right choice for a specific 3D printing project. The right filament can greatly enhance the quality of the output and the efficiency of the printing process, allowing amateur and professional 3D printers alike to bring their creative ideas to life.
Key factors to consider when choosing filament
A well-considered choice can optimize the whole 3D printing process, maximize the potential of your printer, and fulfill the purpose of the final object. Here are a few  factors to consider while choosing a filament:
Compatibility with your printer: just as you would need to know what fuel your car runs on, it's essential to know which filament types your 3D printer supports. The technical specifications of your 3D printer play an important role in determining filament compatibility. Some printers only work with proprietary filaments, while others are more open to the type of filament used. The diameter of the filament, typically 1.75mm or 2.85mm, must be compatible with your printer's extruder. Different filaments require different printing and bed temperatures.Your printer should be capable of reaching those specific temperatures. Checking the printer's specs and manufacturer's recommendations before purchasing a filament can save time, money, and frustration.
Print requirements: depending on the final application of your print, different properties may be prioritized. If you're printing something meant for mechanical stress, durability would be a priority, requiring filaments like Nylon or Polycarbonate. If you are creating a flexible object, filaments like TPU or TPE would be more suitable. For decorative items, you might favor visual aesthetics and opt for filaments that offer a wide range of colors and finishes. The physical environment in which the printed object will be placed should also be taken into account. For instance, an object meant to be used outside would need to be UV and weather-resistant, for which ASA or ABS filaments would be considered better.
Cost-effectiveness: the prices of 3D printing filaments can vary considerably based on the type, brand, color, and quality. Like all consumer goods, higher-priced filaments might generally offer better quality, but it's crucial to weigh the cost against the desired output quality and performance. For example, expensive, specialty filaments might not be necessary for simple, everyday prints. Cost-effective filaments might not deliver the strength or finish required for professional-grade parts.
Environmental considerations: as with any material we use, it's crucial to consider the environmental impact of 3D printing filaments. Certain filaments, notably PLA, are made from renewable resources like cornstarch and are biodegradable making them eco-friendly. However, others, such as ABS, are non-biodegradable and can stay in the environment for a long time. If sustainability is a priority for you, consider whether the filament is recyclable, the power used in its production, and its disposal method.
The filament type directly affects the quality, purpose, cost, and environmental impact of your 3D printing project. Understanding the major factors contributing to choosing the filament becomes an integral part of becoming an efficient and responsible 3D printer.
Common Types of Filament
To simplify your filament selection process, here's a closer look at the most commonly used types:
PLA is user-friendly and widely accepted for its easy printability with minimal warping and odor. However, its lower melting point may make it less suitable for objects exposed to high temperatures.
ABS has excellent strength and temperature resistance but can be challenging to print with due to warping issues and unpleasant fumes during printing.
As a middle-ground option, PETG combines the ease of printing seen with PLA and the strength of ABS. Additionally, it offers excellent chemical resistance.
Beyond the standard types, there are also special filaments such as wood, metal, and glow-in-the-dark options. Choosing these special filaments requires an understanding of their unique properties and considerations regarding their use and the desired application.
How to Store Filament Properly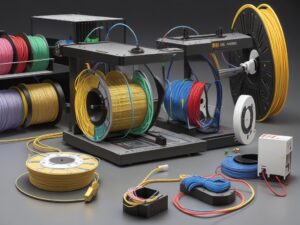 Quality maintenance is crucial not only in the selection and use but also in the storage of 3D printing filaments. Without proper care during storage, filaments can exhibit premature degradation, primarily due to moisture absorption, which can lead to significant issues in your printing process and output.
Many filament materials are hygroscopic, meaning they naturally attract water from their surrounding environment. When exposed to humidity, these filaments can absorb moisture, leading to problems like filament swelling and inconsistent diameter. During printing, this moisture can turn into steam, creating bubbles or "popping" sounds. This affects the extrusion flow rate, leading to poor surface finish, loss of dimensional accuracy, and even nozzle clogging.
To prevent these issues and maintain the integrity of your filament, proper storage is key. Here's how to ensure optimal storage:
As a general rule, filaments should be stored in a cool, dry place, safe from temperature extremes and stagnant moisture. This might be the case for most households, but in more humid areas it can get quite challenging. In such instances, airtight storage containers or vacuum-sealed bags can be ideal, perhaps even with some desiccant packs inside to absorb any residual moisture.
Extended exposure to sunlight not only raises the temperature affecting moisture levels, but UV rays can also cause certain filaments to become brittle and discolor over time. Always store your filament away from direct light sources.
Keep the filament rolls in their original packaging until usage. These packs often come vacuum-sealed with desiccant packs to keep moisture levels at bay. Once opened, seal them back in the same or similar airtight packaging.
Always handle your filament reel by the edges and avoid touching the filament directly as oil and dirt from your hands can contaminate the filament and affect print quality.
Many filament brands now provide resealable bags or even specialized storage solutions, which might be worth investing in, especially for more expensive, specialty filaments.
Appropriately storing filaments can enhance their lifespan, save you money, and improve the quality and consistency of your 3D prints. As each filament material can have its own specific storage requirements, always refer to the manufacturer's instructions to ensure you are providing the best care for each type of filament.