3D printing is a technology that transforms digital models into physical objects by layering material continuously. This process is revolutionizing numerous industries by providing an efficient means to create complex designs, produce prototypes, and generate single, unique products without the need for laborious and costly molds. The automotive industry is one sector that stands to benefit significantly from this technology, which is rapidly altering how vehicles are designed, tested, and produced.
History of Automotive Manufacturing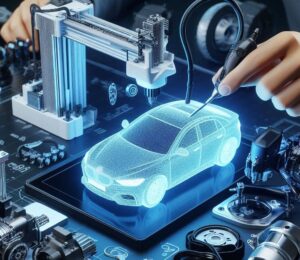 The traditional process of vehicle manufacturing was labor-intensive and cost-heavy. Each vehicle part had to be manually sculpted, usually from metal, which was not only laborious but also consumed vast amounts of resources. Mass production strategies implemented during the 20th century, primarily through assembly lines, significantly expedited the process. Nevertheless, these manufacturing methods often led to a surplus of waste due to the subtraction techniques used, where large pieces of metal were whittled down to create components, resulting in substantial by-products.
In the late 1980s, a transformative technology, 3D printing, burst onto the automotive scene. It provided an efficient approach to construct prototypes and concept models. Instead of spending extensive time and resources in building functional prototypes using traditional methods, manufacturers could now digitally design and print a 3D model of their concepts. This rapid prototyping revolutionized the sector by allowing rapid iterations and design modifications, drastically cutting down on time and costs.
As material science evolved and expanded its realm, so too did the potential applications of 3D printing. What began with plastic polymers soon enveloped metals and ceramics, various composites, and even bio-materials, broadening the horizons for automotive manufacturing. As a result, 3D printing shifted from a technology used primarily for prototyping to one that could be employed in the direct manufacture of vehicle parts.
Advancements in 3D printing technology not only allowed for the creation of intricate and complex designs but also reduced waste significantly by adding material only where needed. Unlike traditional manufacturing methods, 3D printing adds layers of material to construct a part, following a precise digital blueprint, ensuring no excess material is used. This technology's entry into the automotive industry marked a significant shift towards more efficient, cost-effective, and environmentally friendly manufacturing methods.
Current Applications of 3D Printing in the Automotive Industry
The contemporary use of 3D printing in the auto industry is extensive, encompassing a range of parts, from small gearbox components to larger, integral car frames. Leading automobile manufacturing companies, including giants like BMW and General Motors, have recognized 3D printing's value for efficiency and innovation. Replacing time-consuming and expensive traditional milling methods, 3D printing brings convenience to the production process, particularly for creating more complex or difficult to fabricate parts.
The notable use of this technology in hypercar manufacturing provides an excellent illustration of its potential. Bugatti, world-renowned for its high-performance vehicles, utilizes 3D printing to construct its masterfully engineered brake calipers. These components have required complex assembly processes due to their intricate design and crucial function. With the application of 3D printing, these parts can now be 'printed' as a single piece.
The benefits of 3D printing technology transcend simplifying manufacturing processes. For Bugatti, the use of 3D printing has led to vehicle parts that surpass conventionally crafted counterparts in both quality and performance. Instead of heavy, solid metal parts that burden the vehicle, Bugatti now utilizes 3D printed brake calipers that are not only lighter but also more robust. Constructed layer-by-layer, these calipers demonstrate an efficient use of materials, minimizing weight without compromising strength. This lighter weight contributes to reducing the car's overall mass, improving fuel economy and performance.
The Revolutionary Impact of 3D Printing in Automotive Design and Customization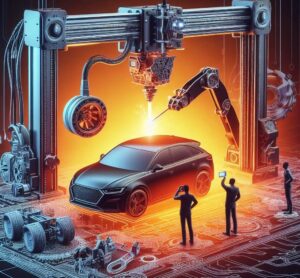 3D printing is also reshaping the landscape of car design and customization. In the realm of design, 3D printing presents innovative possibilities that far surpass the capabilities of conventional methods. Complex geometries, intricate patterns, and unconventional shapes that would ordinarily be impractical or impossible to achieve are made attainable with this cutting-edge technology. Car designs are no longer limited by manufacturing constraints, fostering a new era of creativity and innovation in automotive aesthetics.
3D printing's capacity for customization is where it truly shines, particularly in the realm of custom car manufacturing. Each car owner has unique preferences, from the finely tuned performance modifications to aesthetic alterations. Catering to these incredibly varied and personal requirements has historically been a significant challenge in the industry. 3D printing technology is providing a groundbreaking solution by facilitating the creation of bespoke car parts.
Custom car manufacturers, given the required digital models, can produce almost anything a client desires. Firms have printed parts ranging from tailor-made spoilers that improve aerodynamics to personalized panels that lend uniqueness to the vehicle's exterior. Some companies even offer printed interior parts, like customized gear knobs and dashboard features, attesting to the technology's versatility.
In pushing the boundaries of design and customization, 3D printing is essentially democratizing car manufacturing. It's shifting some control from manufacturers to consumers, who now have greater influence over how their vehicles look and function. This revolutionary shift indicates profound changes in the automotive industry's future dynamics, wherein individual tastes and preferences could drive design and production processes. By combining design freedom with customization capabilities, 3D printing technology indeed heralds a transformative era in automotive design and manufacturing.
Environmental Impacts of 3D Printing in the Automotive Industry
3D printing's potential isn't just tied to revolutionary design possibilities or enhanced customization options. In many ways, this technology is becoming a powerful tool in the global quest for sustainability, especially in the automotive industry. Traditional manufacturing methods often rely on subtractive processes, where larger blocks of material are carved to create desired components. 3D printing follows an additive process, where material is built up layer-by-layer based on an intricate digital blueprint. This fundamental difference leads to a drastic reduction in materials used and waste generated, thus contributing to sustainability.
Components produced via 3D printing commonly weigh less than those manufactured using traditional techniques. This weight reduction is incredibly beneficial in terms of reducing a car's overall mass, which directly impacts fuel efficiency. Remember, the lighter the vehicle, the less energy it needs to move, leading to lower fuel consumption and reduced greenhouse gas emissions.
While the environmental benefits of 3D printing are promising, it's crucial to acknowledge that our understanding of its total environmental impact is not yet complete. The broader environmental ramifications of 3D printing processes, from the energy consumption of 3D printers to the life-cycle impacts of 3D printing materials, are areas that warrant comprehensive investigation.
There's an urgent need to develop sustainable materials and recycling processes for 3D printed components. As the utilization of 3D printing technology blossoms, the industry must ensure the end-of-life recycling of these components to prevent potential waste accumulation.