Slicing Software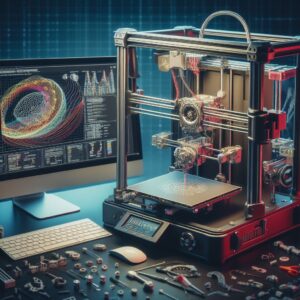 Slicing software, the unsung hero in 3D printing, is your virtual sculptor and the maestro behind turning digital dreams into reality. Much like an artist meticulously carving a masterpiece, slicing software navigates the intricate landscape of your 3D design, breaking it down into a series of printable layers. Slicing software strategically organizes the digital information of your 3D model. It considers every minute detail, from the curves and contours to the structural integrity of your design.
The software contemplates factors like layer thickness, print speed, and temperature, ensuring that each layer is precisely crafted to contribute to the overall form and function of the printed object. It's about translating your imaginative blueprint into a physical reality, one layer at a time.
Different projects demand different approaches, and slicing software offers a variety of customizable settings to cater specific needs. 
Slicing software plays a big role in managing support structures. Slicing software strategically places supports to ensure the integrity of your 3D print, especially for designs with overhangs or intricate geometries. This thoughtful consideration during the slicing process ensures that the final print is not just aesthetically pleasing but also structurally sound.
Slicing software is not a translator from the digital to the physical—it's a digital artisan. It's the tool that allows you to fine-tune your creative vision and bring it to life in three dimensions.
PrusaSlicer's focus on fine-tuning becomes evident as we explore its unique settings for achieving exceptional print quality.
Optimization As The Art of Tailoring Your Print
Mastering your slicing software is a significant step, but the true artistry lies in optimization. 
Layer Thickness: adjusting layer thickness is akin to selecting the resolution of your print. A finer layer height allows for more intricate details but might extend the printing time.A thicker layer can expedite the process but sacrifices some level of detail.
Infill Patterns: optimizing infill patterns is like choosing the internal structure of your print. A solid print might seem robust, but it consumes more material and time. A sparse infill pattern reduces material usage and print time but may compromise structural integrity. We unravel the mysteries of infill, enabling you to strike the perfect balance between strength and efficiency. 
Support Structures: just as a building needs a sturdy foundation, intricate 3D prints often require support structures to maintain their form during printing. Optimizing support structures contributes to the visual appeal of your print and guarantees its structural soundness. 
Material Selection: optimization extends beyond slicing settings to the very material you choose. Different materials offer unique characteristics, from the smooth finish of PLA to the durability of ABS. 
Optimization isn't a one-size-fits-all concept. It's about understanding the nuances of each setting and strategically applying them to achieve your specific goals. 
Trends in 3D Printing Software
One of the most notable trends on the horizon is the seamless integration of artificial intelligence (AI) into 3D printing software. Imagine a printing process that not only follows your commands but learns and adapts to optimize each print. AI algorithms are set to revolutionize how slicing software interprets designs, making split-second decisions to enhance efficiency, reduce errors, and refine print quality. The marriage of AI and 3D printing software heralds a new era of intelligent collaboration between human creativity and machine precision.
Cloud-based solutions are set to liberate 3D printing from the confines of local hardware. Imagine designing your masterpiece on one device and initiating the print process from another, all seamlessly connected through the cloud. This trend not only enhances accessibility but also facilitates collaboration, allowing users to share designs effortlessly. With cloud-based 3D printing, the physical limitations of hardware become secondary to the boundless possibilities of the digital realm.
The user interface is the gateway to the 3D printing experience, and the future promises interfaces that are not just user-friendly but intuitive. Simplified workflows, and interactive features will make 3D printing software more approachable for users of all skill levels. The goal is to empower creators by minimizing learning curves and maximizing the joy of bringing ideas to life in three dimensions.
The evolution of 3D printing software transcends the technicalities; it ventures into the realm of uncharted creative expression. As AI becomes a silent partner in your printing endeavors, cloud-based solutions break down geographical barriers, and user interfaces become more intuitive, the language of this craft evolves. Understanding 3D printing software is not just a technical skill; it's a passport to a digital frontier where your ideas are sculpted with precision and brought to life with unprecedented ease.