In the past decade, one technology that has truly revolutionized the way products are made is 3D printing. It has opened up a new realm of possibilities for various industries, including healthcare, automotive, aerospace, and others. Amid this wide-ranging utility, one particular advantage stands out – its capacity to minimize waste generated during manufacturing. Traditional manufacturing approaches have long presented critical environmental challenges. The use of 3D printing technology can tackle these challenges and offer a waste-efficient, sustainable solution.
Understanding the Traditional Manufacturing Waste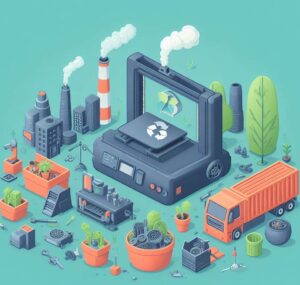 In the traditional mode of manufacturing, waste generation has become an enormously challenging and complex issue. These manufacturing processes often lead to a considerable amount of waste that comes in different forms.
The first form of waste, inventory waste, occurs when manufacturing plants produce more products than necessary, leading to an excess inventory. These surpluses are typically stockpiled in warehouses, tying up capital and taking up valuable storage space. Over time, these products can become obsolete, turn into waste, and lead to economic losses for the firm.
Overproduction waste is another issue wherein products are manufactured in larger volumes than what the market demand necessitates. Producing more than what is required not only burdens the storage facilities but also increases the risk of product obsolescence. Overproduction often results in a lack of synchronization between the pace of production and the rhythm of market demand, creating a supply-demand imbalance that adversely affects both the manufacturing units and the environment.
The needless movement of people, machines, or materials during production gives rise to what is known as the waste of motion. Any unnecessary transportation or motion can cause product damage or deterioration, increase the risk of injury, and strain machinery, leading to inefficiencies and wasting precious resources.
The term over-processing waste is used to describe instances when the manufacturing process includes steps that do not contribute to the value of the final product. These could be redundant inspections, unnecessary refining, or excess packaging. Over-processing not only uses more energy and resources than required, but it also increases the time and money spent on manufacturing activities that do not contribute to the final output's value.
Defective products account for another significant portion of manufacturing waste. The resources — be it raw materials, energy, labor, or time — spent on producing these defective goods go waste, requiring additional resources to fix or replace them. In fact, waste from defects not only escalates costs but can also damage a brand's reputation and customer trust.
 The Role of 3D Printers in Reducing Manufacturing Waste
3D printing contributes heavily to the direct reduction of material waste. Unlike traditional manufacturing methods, where material is cut, carved or drilled out, 3D printing only utilizes the precise volume of material necessary for the final product, thus drastically reducing the incidence of scrap waste. This method ensures that raw materials are used more efficiently, leading to lower expenditure on resources and less environmental degradation.
3D printing technology significantly narrows down the waste of motion. Traditional manufacturing can encompass multiple processes – cutting, drilling, milling, grinding, assembling – each requiring separate setup times and movement between machines. 3D printing, as a form of additive manufacturing, streamlines the production process, bringing down the number of steps and the amount of unnecessary movement.
With its state-of-the-art precision, 3D printing has the capability to fabricate complex and intricate designs in a single step, removing the necessity for further processing or finishing. This not only cuts down waste but also CO2 emissions, as the manufacturing process consumes less energy.
Another benefit of 3D printing is its considerable impact on inventory waste. Being able to effectively produce goods on-demand aligns production with actual demand, thereby negating the need for mass production and the consequential problem of excess inventory. This can significantly alleviate the cost of storing surplus goods and the risk of these goods becoming obsolete.
Productivity is enhanced by 3D printing due to its ability of personalized production. Traditional manufacturing methods often lead to wastage due to non-conforming products on the production line. 3D printers use digital designs to provide superior customization, allowing for tailored production that meets specific specifications. As a result, waste from non-conforming products is virtually eliminated.
The advent of 3D printing technology holds a powerful promise in tackling waste in manufacturing, offering a new paradigm in production that balances efficiency and environmental responsibility. As this technology continues to evolve and become even more accessible, it is poised to bring about significant change in manufacturing and uphold the principles of waste reduction, thus paving the way towards a more sustainable future.
Several sectors have reaped the benefits of waste reduction from 3D printing. For instance, the aerospace industry benefits from lighter and efficient parts made via 3D printing, cutting down on materials. The medical sector uses 3D printing for customized prosthetics, reducing overproduction and inventory waste. The automotive industry capitalizes on 3D printing for on-demand spare parts, reducing stock and saving costs.