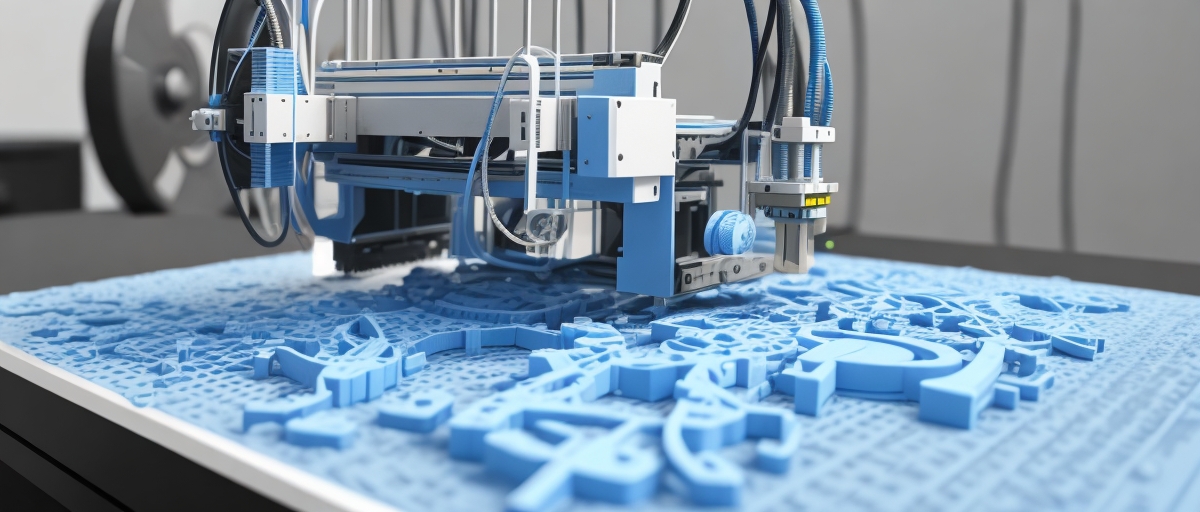 Setting up your first 3D printer can be a thrilling and rewarding experience. Whether you're an artist, an engineer, or just a hobbyist, 3D printing offers endless possibilities for creating tangible objects from digital designs.
Choose the Right 3D Printer
Selecting the ideal 3D printer is the foundational step in your 3D printing journey. With a multitude of options available, like Fused Deposition Modeling (FDM) and Stereolithography (SLA), it's crucial to make an informed decision that aligns with your needs and budget.
Start by researching the various 3D printer models on the market. Understand the nuances of each technology and their applications. FDM printers are known for their affordability, ease of use, and versatility, making them great for beginners. On the other hand, SLA printers offer high precision and are suitable for intricate, detailed prints.
Reading user reviews and seeking advice from the 3D printing community can provide invaluable insights. Users often share their experiences, highlighting the pros and cons of different models. It's a great way to learn about a printer's reliability, ease of maintenance, and customer support.
Consider practical aspects such as the printer's build volume and resolution. A larger build volume allows you to create more extensive and complex designs, while higher resolution results in finer, more detailed prints.
Additionally, factor in your comfort level with technology and your willingness to tinker. Some 3D printers come as DIY kits, which provide an opportunity for customization but require assembly. Others are ready-to-use out of the box, making them more accessible for beginners.
Lastly, assess your budget. While 3D printers come in a wide price range, investing in a quality machine often leads to better long-term satisfaction. Remember that there are ongoing costs associated with 3D printing, such as filament and maintenance, so plan accordingly.
Unboxing Your 3D Printer
Once your 3D printer arrives, it's like opening a box of possibilities. Carefully unpack all the components and check for any shipping damage. You'll typically find the printer, filament spools, power cables, and accessories. Follow the manufacturer's instructions to assemble your 3D printer. The assembly process may vary depending on the model, but usually, it involves attaching the print bed, gantry, and other components.
Install the Required Software
With your 3D printer in hand, the next step in the journey is to install the necessary software. Most 3D printers come with dedicated software, but they often recommend open-source alternatives such as Cura or PrusaSlicer.
To begin, head to the software's official website and download the version compatible with your computer's operating system. Once the download is complete, follow the installation instructions. The software is your bridge to transforming your digital designs into tangible creations.
Once installed, it's crucial to configure the software correctly. You'll need to specify your 3D printer model to ensure that the slicing process is accurate. This step is vital as it influences how the printer interprets your 3D model, which, in turn, affects the final print.
The software is your creative control center. It allows you to fine-tune various print settings, such as layer height, print speed, and infill density. It also generates G-code, a set of instructions your 3D printer understands, which details how the object should be printed layer by layer.
These software tools streamline the entire printing process, enabling you to optimize your prints for quality, speed, or a balance of both. In addition, they often include features for support structures, print bed leveling, and even previewing your 3D model before it materializes.
Calibrate Your 3D Printer
Calibrating your 3D printer is a pivotal step that determines the precision and reliability of your prints. This intricate process involves several key aspects, including leveling the print bed, setting the nozzle height, and fine-tuning other essential printer settings.
Begin by consulting your printer's user manual for detailed calibration instructions. The manual will provide specific guidance tailored to your 3D printer model. It's essential to follow these instructions closely, as the calibration process can vary between different machines.
One common aspect of calibration is leveling the print bed. A level bed ensures that the first layer adheres evenly to the surface, which is crucial for the success of your print. Many 3D printers today come equipped with automatic bed leveling features, simplifying this step. If your printer doesn't have this feature, manual bed leveling may be necessary. A piece of paper or feeler gauge is often used to help determine the optimal distance between the nozzle and the print bed.
Setting the nozzle height is another crucial calibration point. This ensures that the nozzle is at the correct distance from the print bed, preventing filament from either being too close or too far from the surface. Proper nozzle height is vital for the quality and adhesion of each layer.
Furthermore, fine-tuning other printer settings such as temperature, print speed, and retraction settings may be necessary for specific prints. These adjustments affect the overall print quality and need to be tailored to the material and model you're working with.
Effective calibration is essential for achieving successful 3D prints consistently. It may take a few iterations to get it just right, but once you've calibrated your 3D printer correctly, you'll be well on your way to producing exceptional 3D prints with accuracy and reliability.
Load Filament
After your 3D printer is set up and calibrated, the next crucial step is loading the filament. This process is vital for successful 3D printing. Begin by inserting one end of the filament spool into the designated filament holder on your printer. Feed the other end into the extruder following your printer's specific guidelines.
Consult your printer's manual for instructions on heating the nozzle to the recommended temperature. Accurate heating ensures that the filament will flow correctly during printing. Once the nozzle is at the optimal temperature, commence the loading process.
Pay close attention during this stage. The filament should flow smoothly through the extruder and nozzle without any issues. Any obstructions or inconsistencies in filament flow can lead to print problems. Once you've verified that the filament is extruding smoothly, you're ready to advance to the next phase of your 3D printing adventure.
Prepare Your 3D Model
Having completed the hardware setup, you've now reached a crucial stage in your 3D printing journey – preparing your 3D model for printing. This step is where your digital design is transformed into a physical object.
Begin by importing your 3D design into the slicing software that you previously installed. The slicing software is the bridge between your 3D model and the printer. It divides your design into thin layers, ready for the printer to recreate.
To achieve your desired print quality, you'll need to tweak various settings in the slicing software. These include layer height, infill density, and print speed. The layer height determines the thickness of each printed layer, impacting the level of detail and smoothness. Infill density controls the internal structure of the print, affecting strength and material use. Print speed influences the time it takes to complete the print, with higher speeds potentially compromising quality.
Once you're satisfied with the settings, instruct the slicing software to generate G-code. This is a set of precise instructions that your 3D printer will follow to produce the object layer by layer. The G-code includes details about temperature, nozzle movement, and other critical factors.
After generating the G-code, save the file to an SD card or USB drive. This step is crucial because your 3D printer needs access to the G-code file to know how to create your design accurately.
Start Your First Print
After meticulously preparing your 3D model, it's finally time to embark on the thrilling journey of transforming your digital design into a tangible object. The anticipation builds as you take these essential steps to kickstart your first 3D print:
Commence by inserting the SD card or USB drive that houses the G-code file you meticulously generated during the preparation phase. This G-code is essentially the recipe that guides your 3D printer on how to construct your design, layer by layer.
Navigate to your 3D printer's user-friendly control interface, which typically features a touchscreen or a set of buttons coupled with a display. In this interactive space, select the file you're eager to bring to life. It's the moment of choice.
With your file chosen, initiate the printing process and hand over control to your 3D printer. At this juncture, your printer takes over, managing the critical task of heating both the nozzle and the print bed to the precise temperatures required for a successful print.
As your 3D printer springs into action, get ready to be mesmerized. With each layer it extrudes, your design begins to manifest right before your eyes. Watching your creativity materialize is an experience that's nothing short of awe-inspiring. Patience and vigilance are key during this phase, as the initial layers are fundamental to the entire print.
It's worth noting that even though this is an exciting moment, it's also a time for attentive observation. Keep a watchful eye for any signs of potential issues like warping or adhesion challenges. In most cases, these issues can be resolved if detected early.
By starting your first 3D print, you're not just creating an object; you're becoming part of a dynamic community of 3D printing enthusiasts. With every print, you'll gain valuable experience and knowledge, allowing you to continuously refine your skills.
Monitor Your Print
While your 3D printer is in action, it's crucial to maintain a watchful eye to ensure a successful outcome.
Regularly check if the filament is smoothly feeding into the extruder. Ensure there are no tangles or snags that could disrupt the printing process.
Verify that the initial layers are adhering correctly to the print bed. Proper adhesion is vital for a stable foundation. Adjust bed leveling or adhesion methods if needed.
Be prepared to address any issues that arise during the print. Common problems include warping, layer separation, or nozzle clogs. These can usually be resolved with adjustments or minor maintenance.
Post-Processing and Fine-Tuning
Once your print is complete, carefully remove it from the print bed. Depending on your 3D printer and the design, you may need to remove supports or perform additional post-processing steps like sanding or painting. Fine-tuning your printer settings may be necessary to achieve better results over time. Experiment and learn from each print.