Understanding Your 3D Printer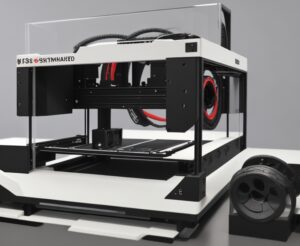 Before embarking upon your creative journey with a 3D printer, the first step is to thoroughly understand your machine, its operation, and the potential risks associated with its use.
This knowledge acquisition begins with reading the user manual that comes along with your printer. The user manual is a wealth of information, tailor-made to assist you in understanding the nuances of your specific 3D printer model. It explains how to properly set up the printer, its regular maintenance requirements, and introduces you to the operating procedures that vary from model to model. The user manual also provides information on diagnosing and remedying potential issues that might occur during the printer's lifespan.
Beyond the manual, it is beneficial to look for additional resources like manufacturer's websites, online forums, or user groups that discuss your specific model or brand of 3D printers. These platforms often allow experienced users to share their insights, tips, and tricks that could drastically improve your comprehension of the printer and help you troubleshoot issues in innovative ways.
It is crucial to comprehend the software that runs in tandem with your 3D printer. This includes understanding how to convert your designs into a format compatible with the printer, knowing how to navigate the printer's interface, and recognizing signs of software errors.
A comprehensive understanding of the printing process itself is additionally invaluable. This includes understanding how the printer layers materials to create the end product, as well as the potential errors that may occur during this process, such as warping or misprints.
It's paramount to acquaint yourself with the different materials you may use in your printer. Each material – PLA, ABS, nylon, etc., has its own properties, including melting points and potential safety considerations.
Safety Tips While Handling 3D Printers
Safety when operating 3D printers hinges significantly on the correct setup of the device and its necessary, regular maintenance. It's paramount that the setup of your 3D printer aligns with the guidelines provided by the manufacturer as these procedures are designed to both optimize the performance of the printer and to ensure users' safety. An incorrect setup can lead to complications that create safety hazards, like printer instability leading to tip-overs, or broken parts that could increase the chance of electric shock.
Regular maintenance, including tasks like cleaning the nozzle, calibrating the print bed, lubricating moving parts, and updating software, keeps the printer in peak operating condition. These routine procedures can help prevent common technical hiccups that could otherwise mutate into safety issues. By ensuring the parts are correctly aligned and functioning, you reduce the risk of sudden equipment malfunction which can lead to accidents.
Handling the materials used in 3D printing requires special attention because some materials may pose health hazards if not managed correctly. This concern is applicable not only during the printing process but also while storing and disposing of these materials. Be sure to store your materials in cool, dry locations, and check whether the materials you are working with call for any specific storage conditions like certain humidity levels. When disposing of materials, consider their environmental impact and follow local regulations or guidelines to ensure they are properly and responsibly disposed of.
Operating a 3D printer often involves dealing with heat and fumes. Some 3D printers can heat up substantially during the printing process and if exposed to skin, can cause burns. Also, many printers give off fumes that could trigger allergies or other respiratory issues. To mitigate these health risks, always use your 3D printer in a well-ventilated area. Invest in a proper exhaust system if needed or try to open windows for natural ventilation. You should also consider adding air purifiers to your workspace for an extra layer of protection.
Wearing appropriate protective equipment is crucial in ensuring your safety. This might range from wearing safety glasses to shield your eyes from any debris during the printing process, to wearing heat-resistant gloves when handling heated components, or even a mask during the removal or sanding of print jobs to protect against dust or particles. Your personal safety should always be paramount, and as the saying goes – it's better to be safe than sorry.
Dealing with 3D Printer Emissions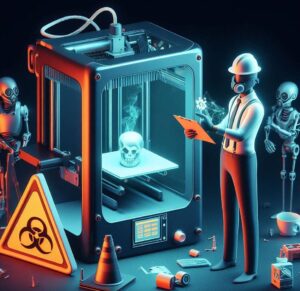 Most 3D printers, particularly those that use methods like fused deposition modeling (FDM), can emit microplastics and other potentially hazardous particles during the printing process. These emissions occur as the printer heats up the printing material, causing it to aerosolize into tiny particles that can then be inhaled or cling to surfaces. Depending on the material used for printing, these emissions might contain harmful substances, which could potentially have an adverse impact on health or the environment.
To minimize the risks associated with these emissions, it's crucial to ensure proper ventilation in the area where the printer is used. Natural ventilation, such as opening windows or doors, can offer some relief, especially when the printer is in a confined space. Natural ventilation may not always be efficient enough to eliminate all emissions, especially when working in larger spaces or during longer print jobs.
Investing in exhaust fans can significantly improve the situation by driving out particles and fumes from your workspace. Exhaust fans promote airflow and help to dilute and disperse the concentration of fumes in the air, making your environment safer.
For those who spend considerable time in close proximity to the printer or for print areas within living or working spaces, using an air purifier can provide an added layer of protection. Air purifiers can specifically be equipped with High-Efficiency Particulate Air (HEPA) filters or activated carbon filters that are efficient at removing airborne particulates and gaseous pollutants, respectively.
Understanding the type of material you are using for the printing process is crucial, as different materials emit different types of particles and fumes. For instance, ABS plastics are known to produce styrene, which can be harmful in high concentrations. Having this knowledge can guide you in choosing the appropriate protection measures.
Remember to schedule regular breaks if you work for extended periods in a 3D printing environment to minimize continuous exposure to these fumes. Monitoring the room's air quality and having appropriate personal protective equipment such as masks or respirators can be quite beneficial in these cases. It's crucial to take the necessary measures to ensure a safe and healthy working environment when dealing with 3D printers.
Electrical Safety Precautions
3D printers, just like any electronic device, bring with them inherent electrical risks. These hazards can manifest if the device is handled inappropriately or kept in improper conditions. Loose wires, for instance, are a common electrical hazard that could lead to shock or short-circuiting. It is crucial to always perform regular checks on your 3D printer's wiring. Make sure all wires and connections are secure and that no cables are frayed, exposed, or damaged.
Grounding is another fundamental precaution to consider in terms of electrical safety. A properly grounded 3D printer can prevent potential electrical shocks. This involves ensuring that your electronic device is connected to a socket that has a functioning ground or earth connection. To further enhance this safety measure, it's best to use a residual-current device (RCD), which can detect and prevent electrical faults by rapidly disconnecting the current.
Operating the printer in a damp environment can increase the risk of electric shocks due to the conductivity of water. This is why it is essential to keep the printer and all its peripherals in a dry and well-ventilated area. Avoid touching the printer with wet hands and shield it from any moisture or liquid spills.
Periodical inspection by a professional is an effective preventive measure. This not only helps ensure your 3D printer is functioning effectively and efficiently but more importantly, ensures it remains safe to use. A professional can identify any potential point of failure or hazard from an electrical viewpoint that you might overlook.
Remember to switch off and unplug your 3D printer from the power source when it's not in use or during maintenance or troubleshooting. This simple practice can significantly reduce electrical accidents. In sum, it's important for users to follow these precautionary steps to ensure a safe 3D printing environment, and always adhere to the manufacturer's instructions and safety guidelines.
Fire Safety Precautions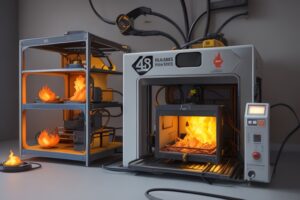 While instances of 3D printers causing fires are relatively rare, they are not unheard of, and as such, it is important to take fire safety precautions. These machines often operate at high temperatures, and if left unmonitored, have potential to cause fires due to overheating or electrical malfunctions.
One key safety precaution is to ensure that your 3D printer does not operate unattended, particularly over extended periods. Many 3D printing processes can be quite lengthy and may take several hours, or sometimes even days, to complete. It is important not to let this lull you into complacency. Regularly checking in on the progress of your print job not only can reassure you that the printer is functioning properly, but also allows you to act quickly in the event of a malfunction.
You should try to schedule your print jobs when you are present and able to supervise. If that's not possible, technologies such as smoke detectors, thermal cut-offs or webcam monitoring systems can offer an added layer of security. Some latest 3D printers even come equipped with safety features like thermal runaway protection, which shuts the printer down if it detects overheating.
Keeping a fire extinguisher close to your 3D printer is another highly recommended precaution. In the unfortunate event that a fire does occur, it's crucial to have the right firefighter equipment on hand. Look for an extinguisher that is suitable for electrical fires, often designated as 'Class C' in the United States or 'Class E' in Europe.
The positioning of your 3D printer is crucial for fire safety. Ensure the printer is set up in an area that is free from flammable materials, including papers, fabrics, or chemicals, and is a safe distance away from walls and other equipment.
While 3D printing technology can be a wonderful tool, it is essential to treat it with the respect and caution it deserves. Even though fires are rare, they can be serious and dangerous, and adhering to these safety precautions can go a long way in preventing accidents.