The Prusa i3 MK3, produced by Prusa Research, is the epitome of what a 3D printer should be. This Fused Filament Fabrication (FFF) machine is well-renowned for its exceptional build quality, reliability, and the precision it brings to the world of 3D printing.
Build Quality and Design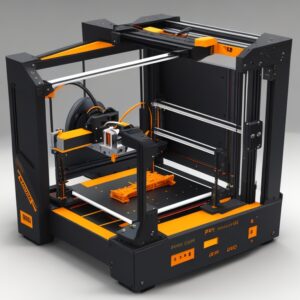 The Prusa i3 MK3's standout feature is its impeccable build quality and design. Prusa Research has meticulously crafted this 3D printer, emphasizing both functionality and aesthetics. The frame, constructed from durable materials, not only ensures remarkable stability during printing but also exudes a sleek and modern appeal.
Prusa Research's keen attention to detail is evident in every aspect of the printer's design. From the precision of its components to the choice of materials, it's clear that quality is a top priority. This commitment to excellence makes the Prusa i3 MK3 not only a robust workhorse but also an elegant addition to any workspace. 
Ease of Assembly and Use
Prusa i3 MK3's ease of assembly and use makes it an appealing choice for all. Prusa Research has made the setup process a walk in the park, even for those unfamiliar with the intricacies of 3D printers.
Prusa Research has provided meticulous and user-friendly instructions that guide you through every step. Their commitment to detail shines through in the clarity of the instructions, ensuring that even a first-time user can confidently assemble the printer. The inclusion of high-quality images and well-structured documentation simplifies the process, making it accessible to both beginners and experienced 3D printing enthusiasts.
Once you've completed the assembly, the user-friendly experience continues. The printer's user interface is intuitive and easy to navigate. It simplifies the entire printing process, from loading your chosen filament to initiating the print job. This level of user-friendliness allows you to focus on your creative projects rather than getting bogged down in technicalities.
Printing Quality and Precision
What truly sets the Prusa i3 MK3 apart is its impeccable printing quality. With a maximum build volume of 250 x 210 x 210 mm, it's suitable for both small-scale and more substantial projects. The printer's heated bed and precise extruder temperature control guarantee consistent and high-quality prints. It also has automatic bed leveling, a feature that greatly simplifies the setup process.
One of the most significant advantages of this printer is its ability to print with various materials. Whether you're using PLA, PETG, ABS, or other specialty filaments, the Prusa i3 MK3 handles them with ease. This versatility ensures that you can explore a wide range of projects and experiment with different materials to achieve the desired results.
Advanced Features
The Prusa i3 MK3 is not just a printer; it's a cutting-edge piece of technology. 
Multi-material Printing. This printer supports multi-material printing, allowing you to create colorful and intricate designs.
Trinamic Drivers. The quietness of the printer in operation is remarkable, thanks to the use of Trinamic drivers.
Power Panic. In case of a power outage, the printer can resume where it left off, preventing wasted time and filament.
Automatic Filament Loading. Loading and unloading filament has never been easier, making filament changes a breeze.
The Community and Support
Prusa Research is not just about selling printers; they're passionate about nurturing a thriving community. Their open-source philosophy has led to a vast community of users who share their experiences, insights, and modifications for the Prusa i3 MK3. This collaborative environment can be invaluable, especially for those who are just starting their 3D printing journey.
The company also provides excellent customer support. If you ever encounter an issue, their responsive customer service team is there to help. This level of support is crucial, particularly when you're venturing into the world of 3D printing, which can have a learning curve.
Pros and Cons
As with any product, there are both pros and cons to consider when it comes to the Prusa i3 MK3:
Pros:
Exceptional print quality and precision

Easy assembly and user-friendly interface

Versatile, supporting various filament types

Innovative features like multi-material printing

Strong and supportive user community
Cons:
Higher initial cost compared to some other 3D printers

The size of the build volume may not be sufficient for very large projects