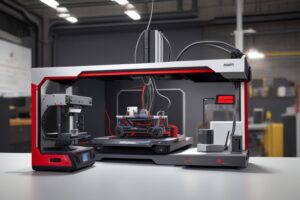 MakerBot has been a pioneer in the 3D printing industry for over a decade, and their experience shines through in every one of their products. Their printers are renowned for their reliability, user-friendliness, and impressive build quality.
The first impression when unboxing a MakerBot 3D printer is the sense of sturdiness and thoughtful design. These machines are built to last, with a robust metal frame that ensures stability during printing. MakerBot has paid meticulous attention to detail, resulting in printers that are not only functional but also aesthetically pleasing. The compact design is an added bonus, making them suitable for both professional settings and home use.
One of MakerBot's standout features is its commitment to making 3D printing accessible to everyone. Their printers are designed with user-friendliness in mind. Setting up a MakerBot printer is a breeze, and their user-friendly interface simplifies the printing process. The onboard touchscreen makes it easy to navigate through settings, load filament, and start printing, even for beginners.
Impressive Print Quality
MakerBot 3D printers are known for their impressive print quality. They utilize Fused Deposition Modeling (FDM) technology, which allows for the creation of precise and detailed prints. The layer resolution on these machines is commendable, resulting in smooth surfaces and intricate designs. 
The use of FDM technology involves extruding a thermoplastic filament layer by layer, which leads to the creation of three-dimensional objects with great precision. This technology ensures that the printed objects are not only accurate but also structurally sound and functional. This makes MakerBot's 3D printers suitable for a wide range of applications.
Diverse Filament Compatibility
MakerBot's versatility in filament compatibility sets it apart from the competition. MakerBot 3D printers can handle a wide range of filament materials, from standard PLA and ABS to more advanced options like PETG and Nylon. This diverse filament compatibility opens up a world of possibilities for users, enabling them to explore a variety of projects, each with specific material requirements. This adaptability makes MakerBot an excellent choice for those seeking versatility in their 3D printing projects.
Cloud-Enabled Printing
MakerBot has harnessed the power of the cloud to enhance the 3D printing experience. Their printers are equipped with cloud-enabled features that enable remote monitoring and management. This means you can keep an eye on your print jobs and even control your MakerBot 3D printer from virtually anywhere.
MakerBot's cloud-enabled features are made possible through the MakerBot Print software, which allows users to seamlessly prepare and send print jobs from their computers or smartphones. This feature is not only convenient for hobbyists but also highly beneficial for educators and professionals who need to oversee multiple printers simultaneously.
Educational Applications
MakerBot has been proactive in promoting 3D printing in education. Their printers are widely used in schools and universities to teach students about design, engineering, and problem-solving. MakerBot's educational resources, including lesson plans and curricula, make it easier for educators to incorporate 3D printing into their teaching methods.
Customer Support and Community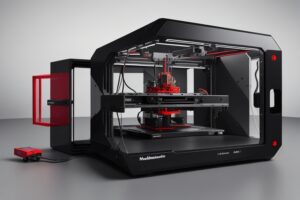 MakerBot distinguishes itself in the 3D printing industry not only through its hardware and software but also through its unwavering commitment to customer support and community engagement.
One of the standout features of MakerBot's support ecosystem is its comprehensive online resources. The MakerBot website hosts an extensive knowledge base, filled with articles, FAQs, and troubleshooting guides. 
MakerBot fosters a vibrant and engaged user community through its online forum. This community is a hub of knowledge sharing, where users from around the world come together to discuss their experiences, share tips and tricks, and seek assistance. 
In addition to the online resources, MakerBot offers direct customer support. You can reach out to their support team for personalized assistance, whether you need help with technical issues, guidance on using the software or troubleshooting hardware problems. This accessibility to expert support is a valuable asset for users who may encounter more complex challenges.
Pricing
MakerBot 3D printers are available at various price points, making them accessible to a wide range of users. While they may not be the cheapest on the market, the quality, performance, and support you receive more than justify the investment.