Another business has experienced the benefits of 3D printing with the reproduction of one of its oldest parts. Langhorne Carpet Company (LCC) recently used 3D printing to replace a Jacquard cylinder, a core component of its carpet-manufacturing process. LCC, located in Penndel, PA, was founded in 1930 and has established itself as a leading carpet manufacturer throughout the nation. Some of its looms were originally purchased from Henry Ford, who tried and failed to produce carpets for his own vehicles. With high attention to detail and dedication to quality, its carpets have been installed in historical halls, the Henry Ford Estate, historic houses of worship, and more.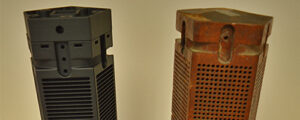 After over 80 years in operation, one of the Jacquard cylinders was finally beginning to show signs that a replacement was needed. LCC Jacquard cylinders were originally made of extremely rare and environmentally sensitive Cuban mahogany. The cylinder is a key component of the weaving process, where decks of connected Jacquard punch cards, which create the intricate designs and patterns that LCC is known for, feed onto the cylinders and help to produce the finished carpets.
"Our looms will run forever, but like any classic, they eventually require replacement parts," said LCC President William Morrow.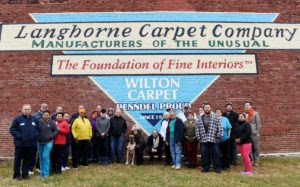 Existing solutions for a replacement part would require LCC to custom order a new cylinder made using traditional manufacturing processes or try to locate one that had been refurbished. Either option would be cost prohibitive and take too long to turn around. This was not a viable option for a carpet mill that operates around the clock.
The first person to suggest 3D printing as a means to produce a placement part was Mill Supervisor Jerry Bell, an employee of LCC for 37 years.
"You couldn't get the wood anymore…and we can't use something like pine, because it's too soft," Bell said.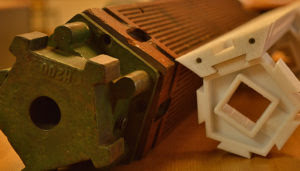 Bell was eventually connected with ProtoCAM's Vice President of Sales & Marketing, Bob Holbrook. One of the benefits of 3D printing is that it opens the door to design freedom, meaning existing parts can be improved upon to work more efficiently. This is the approach ProtoCAM took after taking a look at the original cylinder.
Some of the modifications ProtoCAM added to the design included making each panel of the cylinder removable and easily replaceable. The company also added vents in place of the previously drilled holes. In order to better understand how the part would function during operation, Holbrook and ProtoCAM's Vice President of Additive Manufacturing, Ed Graham, took a trip to LCC to see the loom in action. Bell, meanwhile, visited ProtoCAM's operation to see firsthand how the 3D printing process works.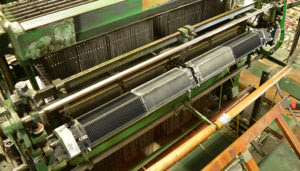 To print the new cylinder, ProtoCAM used HP Multi Jet Fusion 3D printing technology, which produced a part that was more efficient, lighter than the original, and easily replaceable. Now that a digital file has been created, LCC can take of advantage of replicating the part for other Jacquard cylinders once they begin to show signs of wear.
With the new cylinder installed and operating alongside its wooden counterparts, it showcases a perfect example of the value of 3D printing for replacement parts. Minimal downtime, improved efficiency, cost-effectiveness, fast turnaround, easily replicated – what more could a carpet mill ask for?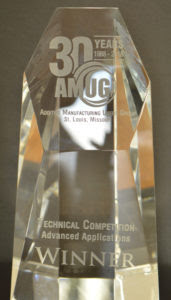 The replacement cylinder was such a success that it went on to win first place in the "advanced concepts" category of the Technical Competition at the 2018 Additive Manufacturing Users Group (AMUG) Conference, where awards went to innovative designs.
The "advanced concepts" category of the Technical Competition recognizes individuals and their companies for exceptional work with additive manufacturing technologies. The Jacquard cylinder was so impressive that it beat out competition from several industry giants including BMW and Adidas.
This proves to be another win for 3D printing in the field of replacement parts. It's exciting to see more manufacturers realizing the benefits of 3D printing and to see how they're applying it within their operations. What's more is how ProtoCAM went beyond just printing a replacement part and decided to improve the overall design. Designing for 3D printing can be difficult to understand for manufacturers used to designing around traditional manufacturing limitations. Fortunately, there is an increasing number of schools and universities offering coursework around 3D printing and design, which will prepare the future workforce for a manufacturing world that's continually shifting to advanced technologies.