Defining the Two Categories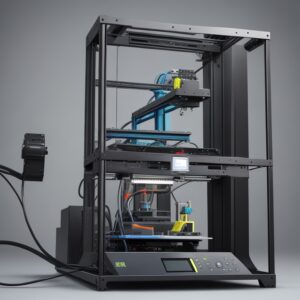 Industrial 3D printers, the giants of the 3D printing world, are commonly found in manufacturing plants, automotive industries, aerospace sectors, and high-tech research laboratories. These machines are integral to large-scale production, aiding in the creation of everything from intricate automotive parts to crucial aerospace components. They are known for their ability to work with a wide range of materials, including metals, high-performance plastics, and composites, allowing for diverse applications. These printers often feature advanced technologies such as laser sintering, fused deposition modeling, and stereolithography. Due to their high precision and durability, they cater to the demanding needs of various industries. They are instrumental in prototyping and play an important role in tooling, direct manufacturing, and even in the medical field for creating custom prosthetics and implants.
Home 3D printers have revolutionized personal workspaces, hobbyist garages, and educational institutions by bringing the magic of additive manufacturing into everyday life. These machines prioritize user-friendliness and accessibility, featuring simplified software and interfaces that make 3D printing achievable for personal projects, educational purposes, and small-scale entrepreneurial endeavors. They typically work with materials like PLA, ABS, and PETG, catering to a wide range of creative and practical applications, from crafting custom toys and household items to prototyping designs and educational models. The affordability and compact size of these printers have democratized 3D printing, making it a popular tool for hobbyists, artists, and educators. The growing community of 3D printing enthusiasts has led to a wealth of online resources, forums, and open-source projects, fostering a collaborative and innovative environment for users to share designs, tips, and tricks.
Technical Comparisons
Both industrial and home 3D printers may employ common technologies such as FDM (Fused Deposition Modeling) and SLA (Stereolithography), but they differ significantly in their capabilities and sophistication. Industrial 3D printers often incorporate advanced versions of these technologies. Industrial FDM printers are equipped with high-end extrusion heads capable of handling a wide range of materials, including high-temperature thermoplastics and composites, with greater precision. They also feature enhanced cooling systems and more robust construction to ensure consistent quality, especially for prolonged printing tasks.
Home 3D printers, while they may use similar technologies, are generally more limited in terms of the materials they can process, often restricted to standard filaments like PLA and ABS. These printers prioritize ease of use and affordability over advanced capabilities.
Industrial printers offer greater build volumes, allowing for the creation of larger and more complex parts in a single print job. They also boast higher resolutions, which is critical in applications where detail and accuracy are paramount, such as in the medical or aerospace industries. These printers can achieve finer layer thicknesses, leading to smoother surface finishes and more intricate details.
Industrial printers often feature cutting-edge software and control systems, providing greater flexibility and precision in the printing process. This includes more sophisticated slicing algorithms, enhanced error detection and correction capabilities, and the ability to integrate with other manufacturing systems for streamlined production workflows.
While both types of printers operate on similar basic principles, industrial 3D printers are designed for robustness, versatility, and precision to meet the rigorous demands of professional manufacturing environments, whereas home 3D printers focus on accessibility and ease of use for hobbyists, educators, and small-scale creators.
Materials Used
The range of materials that can be processed by industrial and home 3D printers underscores their distinct purposes and capabilities. Industrial 3D printers are engineered to work with a vast array of materials, extending far beyond the scope of what home printers can handle. These include high-strength, engineering-grade plastics like PEEK (Polyether Ether Ketone) and Ultem, which are known for their exceptional thermal and chemical resistance, making them ideal for demanding industrial applications. Industrial printers can also process a variety of metals, such as titanium, stainless steel, and aluminum, through methods like Direct Metal Laser Sintering (DMLS). This capability is crucial for sectors like aerospace and automotive, where the strength and durability of metal parts are non-negotiable.
Industrial printers can utilize specialized resins with unique properties, such as high flexibility, transparency, or biocompatibility, essential for applications ranging from flexible industrial components to medical devices and prototypes.
Home 3D printers generally focus on materials that are easier to print and more readily available. The most common materials used in these printers are PLA (Polylactic Acid) and ABS (Acrylonitrile Butadiene Styrene). PLA is biodegradable, easy to print, and available in various colors, making it a favorite among hobbyists and educators. ABS, while slightly more challenging to print due to its tendency to warp, offers greater durability and heat resistance, making it suitable for more functional household items.
Some home printers are also beginning to support a wider range of materials, including PETG (Polyethylene Terephthalate Glycol), known for its strength and water resistance, and flexible materials like TPU (Thermoplastic Polyurethane). The capabilities of home printers in processing these materials are still limited compared to the advanced material handling and processing features of industrial printers.
Size and Build Volume
The size and build volume of a 3D printer play a big role in determining its applications and capabilities. Industrial 3D printers are typically characterized by their significantly large build volumes, which can range from a few cubic feet to several cubic meters. This expansive build space is a key feature, allowing for the creation of large, complex parts or multiple components in a single print run. Such large build volumes are essential in sectors like automotive, aerospace, and construction, where large-scale parts are the norm.In aerospace, industrial printers are used to create sizable, complex components that must withstand extreme conditions. In the automotive sector, these printers are capable of producing entire chassis components or large panels.
The large build volume of industrial printers accommodates bigger parts and offers the advantage of printing multiple smaller parts simultaneously, significantly enhancing production efficiency. This capability is especially valuable in mass production or when creating intricate, bespoke items in industries such as consumer goods or medical equipment manufacturing.
Home 3D printers are designed with smaller build volumes, typically ranging from a few cubic inches to a cubic foot. These dimensions are well-suited for the scale of projects typically undertaken in personal workspaces, classrooms, or small businesses. The compact build volume of these printers is ideal for creating modest-sized objects like household items, educational models, hobbyist projects, and prototypes for small-scale ventures. The smaller size of these printers also makes them more suitable for desktop use, fitting easily in homes, schools, and small offices.
While the smaller build volume of home printers limits the size of individual parts that can be printed, it aligns with the needs of their primary users, who generally focus on smaller, personalized projects. Some home printers offer innovative solutions to this limitation, such as modular designs that allow parts to be printed in segments and assembled post-printing.
The distinction in size and build volume between industrial and home 3D printers reflects their intended use cases. Industrial printers, with their large build volumes, cater to the needs of large-scale, professional manufacturing, while home printers, with their more modest dimensions, are tailored to smaller, personal, or educational projects.