There's no doubt; nothing elevates a Halloween celebration quite like spooky props. They create an eerie ambiance adding to the thrill of the season. Traditionally, most people have purchased Halloween props. The introduction of 3D printing has revolutionized how Halloween props can be created, offering limitless imagination and creativity.
Foundation of 3D Printing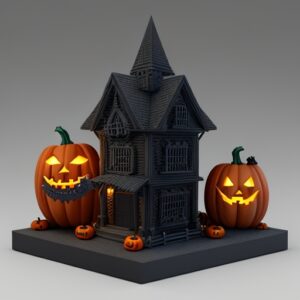 3D printing, also known as additive manufacturing, is an innovative technology that enables the creation of three-dimensional solid objects from digital files. The process works by depositing material layer by layer based on the path set by a Computer-Aided Design (CAD) model. Unlike traditional manufacturing methods, which typically involve casting, molding, or subtractive techniques, 3D printing adds the materials in layers until the desired object is produced.
There are various types of 3D printers available in the market, each with its own method of layer deposition and range of materials it can use. For instance, a common type is the FFF (Fused Filament Fabrication) printer, which uses a plastic filament that is heated until it melts. The molten filament is then extruded through a nozzle that moves in predetermined paths, creating the object layer by layer through a process called FDM (Fused Deposition Modeling).
When it comes to creating Halloween props, the FFF type of printer can be an excellent option due to its versatility, ease of use, and broad compatibility with several types of filaments. Important among these are PLA (Polylactic Acid) and ABS (Acrylonitrile Butadiene Styrene), which are popular due to their accessibility, ease of printing, cost-effectiveness, and final print quality.
PLA, a biodegradable plastic made from renewable resources like cornstarch, has a lower printing temperature and does not produce toxic fumes during printing, making it a safer choice for home use. Its sturdy structure makes it a good choice for printing decorative items like Halloween props.
ABS is a strong, durable plastic that can withstand higher temperatures and wear, making it suitable for larger, more durable props that can weather the elements outdoors. However, it requires a higher printing temperature and proper ventilation due to the fumes it produces.
The choice of 3D printer and filament material largely depends on the specific requirements, safety considerations, and longevity of the Halloween props being created.
Benefits of 3D Printed Halloween Props
The advent of 3D printing has revolutionized the way Halloween props can be made, adding immense value to the entire process. There are multiple striking benefits associated with 3D printed Halloween props, pushing their usability beyond the limits of traditional means.
One of the main advantages is the possibility of limitless customization. Unlike the mass-produced store-bought props where you are limited to what is available, with 3D printing, you have the freedom to create whatever your heart desires. Be it eerie, uncanny, or downright petrifying, the ability to personalize your Halloween props to fit your particular spooky vision gives your celebration a unique flavor. Whether you want to print a life-sized skeleton or a bunch of miniature goblins, 3D printing gives you the freedom to do so. Colors, sizes, and shapes – everything is under your control.
The durability of 3D printed items is commendable. When crafted with suitable materials, these props are strong, robust, and reliable. They can withstand harsh weather conditions, accidental drops, and the test of time. Meaning, those who invest in 3D printed Halloween props can look forward to using them across multiple celebrations. This also allows you to gradually build your collection of thematic decorations over the years.
With regards to cost-effectiveness, while the initial investment of a 3D printer may appear discouraging, it's important to consider the long-term economics. Once you've invested in a quality 3D printer, producing additional props becomes substantially more affordable compared with routinely purchasing store-bought items. The materials used for 3D printing, such as PLA or ABS filaments, are generally less costly than fully-made store-bought props. Moreover, wasted material is minimal when you are printing, as you only use exactly what's needed to create your prop.
There's also the aspect of sustainability. Since you're producing only what you need, there's less wastage, which translates to lesser ecological footprint. Finally, 3D printing your own Halloween props adds an enjoyable and educational do-it-yourself aspect to your Halloween preparations, making it exciting for both adults and children alike.
Idea Generation for Spooky Halloween Props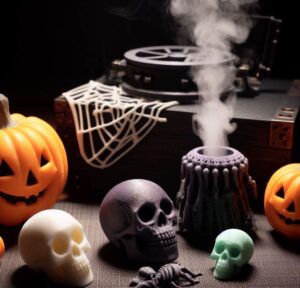 Bored with conventional Halloween décor like pumpkins and black cats? The world of 3D printing presents a boundless array of thrilling and frightening prop options to spark your imagination.
Why limit creativity to miniatures? It's now possible with large scale 3D printers to manufacture life-sized skeletons and skulls that offer an additional level of realism and creepiness to your Halloween decoration. Conventional props can lack the detail and authenticity a 3D printed item can represent, making your Halloween party one of a kind.
Perhaps you're looking to create a gothic scene filled with creepy-crawlies like spiders, bats, and other insects. With 3D printing, you can fabulously replicate the textures and intricate details to get as lifelike as you want. Details such as the delicate wings of bats or the intricate web structure a spider weaves can be precisely achieved through this innovative technology.
Delve into the intriguing world of movies and cinematic creatures by bringing your favorite horror characters to life. Be it iconic slasher villains, eerie ghosts, or supernatural creatures, 3D printing allows you to produce an uncanny likeness of your selected character. You can create a comprehensive chilling scenario by recreating a particular scene or even a miniature version of a haunted house or a creepy forest.
Speaking of haunted houses, 3D printed models of haunted mansions, abandoned graveyards, and eroding tombstones can also contribute to an eerie setting. You can recreate an entire haunted village with 3D printing, complete with miniature ghouls and demons. With every light flicker and silhouette, you can create an eerie ambiance to make your guests' spines tingle.
You can explore endless creative components like dismembered body parts, monster fangs, and claws, or magical items like witches' brooms or magic wands. You can also create hand-held props like eerie lanterns, magic amulets, or cursed objects.
With 3D printing, the possibilities for Halloween decoration and props extend as far as your imagination does. It provides endless opportunities for innovation and realism to your festivities, making every Halloween celebration truly memorable and unique.
Safety Tips for 3D Printing Halloween Props 
When crafting Halloween props and decorations using 3D printing technology, it's essential to exercise safety precautions to protect yourself and others around you.
Handling filament materials used for 3D printing, such as PLA or ABS, can emit tiny particles or potentially hazardous fumes. Always wear a mask to protect yourself from inhaling these substances. It's also ideal to use gloves during handling to guard against possible skin irritations.
Place the 3D printer in a well-ventilated area – this helps to dissipate any fumes produced during the printing process, further reducing inhalation risks. If a completely open space is not available, consider getting an extractor fan or using air purifiers to ensure clean and safe air condition.Regular cleaning of the printer can prevent particle accumulation leading to potential fire hazards.
Keeping children and pets at a safe distance from the printer is another important safety measure. Due to the high temperatures used in the printing process and moving components, it's best to prevent any inquisitive little hands or paws from getting too close. Make sure to turn off and unplug the printer when not in use for an added layer of safety.
After the printing process is complete and your spooky props are ready, proper storage is essential. Keep the items in a cool, dry place away from direct sunlight to prevent warping and discoloration. For smaller, potentially swallowable components, keep at a height beyond children's reach to prevent accidental ingestion. If the props have sharp edges or points, make sure they are filed down or covered to prevent inadvertent injuries and ensure they are kept out of the way during everyday activities.
By following these safety tips, you can enjoy the benefits of making 3D printed Halloween props while ensuring a safe and secure environment for everyone involved. Remember, the key to a fantastic Halloween celebration lies not just in having the spookiest decorations but also in staying safe while creating them.