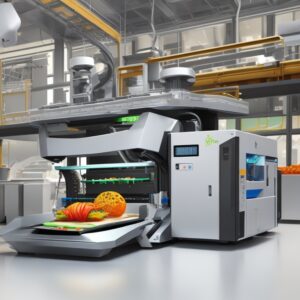 3D food printing, a fusion of culinary art and technology, offers innovative ways to create intricate and customized food items. This technology operates through two methods: extrusion-based printing and selective laser sintering.
In extrusion-based printing, the process resembles traditional 3D printing, where a material is pushed through a nozzle in a controlled manner to build up layers. The 'inks' used in this method can be a variety of food materials, ranging from pureed fruits and vegetables, chocolate, and dough, to cheese. These materials are carefully selected based on their viscosity and flow properties to ensure they can be accurately extruded and retain their shape during and after printing. This method allows for the creation of complex shapes and structures that would be difficult or impossible to achieve by hand.
Selective laser sintering (SLS) involves the use of a high-powered laser to fuse small particles of food material, such as sugar or protein powders, into a solid structure. This method is particularly useful for creating intricate and detailed designs, as the laser can be very precisely controlled. It allows for the creation of textures and forms that are not achievable with traditional cooking methods.
The potential applications of 3D food printing are vast. It can be used in gastronomy to create unique and complex dishes, in healthcare for personalized nutrition (like creating meals with specific nutrient profiles for individual dietary needs), and in the space industry for efficient food production. 
One of the most exciting aspects of 3D food printing is its ability to customize food products to individual tastes and dietary requirements. Chefs and food technologists can experiment with flavors, textures, and colors, creating dishes that are delicious and visually stunning. This technology opens up new possibilities for personalization in food, making it possible to tailor meals to personal taste preferences, allergies, or specific health goals.
3D food printing represents an advancement in the culinary world, offering a new possibilities in food creation and customization. With its ability to precisely control ingredients and shapes, it provides a novel way of thinking about and interacting with food. As this technology continues to evolve, it is likely to become an increasingly important tool in both commercial kitchens and home cooking, revolutionizing the way we think about and prepare food.
Customization and Personalization
The customization and personalization possibilities offered by 3D food printing are transforming the culinary landscape. This technology enables the creation of dishes that cater to the specific nutritional and aesthetic preferences of individuals, making it a groundbreaking tool in both personal and professional kitchens.
One of the most significant benefits of 3D food printing is its ability to accommodate special dietary requirements. For example, individuals with celiac disease or gluten intolerance can benefit from tailor-made gluten-free products. Using 3D printing, these products can be created with alternative flours and ingredients, ensuring they are safe while also allowing for a variety of textures and tastes that might be difficult to achieve with traditional cooking methods. For those with allergies or specific dietary restrictions, such as vegan or ketogenic diets, 3D food printing can produce meals that adhere strictly to their dietary needs without compromising on flavor or variety.
Beyond nutritional customization, the aesthetic potential of 3D food printing is virtually limitless. Chefs and food designers can experiment with intricate shapes and structures that were once impossible or extremely time-consuming to create by hand. This allows for the creation of visually stunning dishes that can elevate the dining experience to new heights. For instance, intricate lattice structures, complex geometric shapes, or even detailed replicas of objects can be created with precision and consistency.
The intersection of technology and culinary arts through 3D food printing opens up new avenues for artistic expression. Chefs can design dishes that are delicious and visually striking, turning a meal into an immersive sensory experience. This can be particularly appealing in high-end dining establishments, where the presentation of food plays a crucial role in the overall experience.
3D food printing also holds promise in educational and entertainment settings. For example in culinary schools, students can use this technology to learn about food composition and structure. In entertainment, custom-designed food items can add a unique dimension to events and celebrations.
The ability to customize and personalize food through 3D printing technology is not just a novelty but a significant step forward in the evolution of food preparation and consumption. It allows for greater dietary control, artistic expression, and innovation in the culinary field, making it a fascinating and continually developing area of technology and gastronomy.
Innovation in Food Production
3D food printing is revolutionizing the way we approach food production, offering numerous benefits in terms of efficiency, sustainability, and innovation. In operations like catering or packaged food production, this technology ensures consistency and precision, which are key to maintaining quality and customer satisfaction.
One of the primary advantages of 3D food printing in industrial settings is its ability to produce uniform and consistent products. Traditional food production methods can often result in variations due to human error or inconsistencies in ingredient handling. With 3D printing, each item is created based on precise digital designs, ensuring every piece is identical in size, shape, and composition.
Another aspect of 3D food printing is its role in reducing food waste. In traditional food production, a substantial amount of waste is generated from trimming and shaping ingredients. 3D printing minimizes this waste by using exact amounts of ingredients needed for each item, thus optimizing the use of resources.
3D food printing opens up possibilities for using sustainable and alternative ingredients that are often challenging to incorporate in conventional cooking methods. Ingredients like insect protein, algae, or plant-based meat substitutes can be transformed into palatable and visually appealing dishes through 3D printing. This broadens the range of sustainable food options available and helps in addressing global challenges like food security and environmental sustainability.
The use of alternative ingredients is particularly promising in the context of global food shortages and the need for more sustainable food sources. Insects, for example, are a highly sustainable source of protein, requiring significantly fewer resources to farm compared to traditional livestock. By using 3D printing, these alternative protein sources can be transformed into more familiar and appealing forms, making them more acceptable to a wider audience.