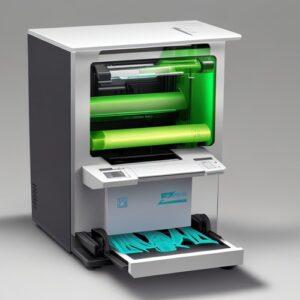 Formlabs has emerged as a leader in the desktop SLA 3D printer market, distinguishing its product line through precision, reliability, and user-friendliness. The company's flagship models, the Form 3 and Form 3L, are powered by Formlabs' proprietary Low Force Stereolithography (LFS) technology. This advanced form of SLA printing reduces the forces exerted on the part during the printing process, allowing for finer details, smoother surface finishes, and more consistent mechanical properties.
The Form 3 is a compact desktop printer designed for precision and ease of use, making it an ideal choice for small businesses, individual professionals, and educational institutions. It has a build volume of 145 × 145 × 185 mm, which accommodates a broad range of projects without taking up excessive desk space.
The Form 3L is developed for larger-scale printing with its significantly expanded build volume of 335 × 200 × 300 mm. This allows for the production of larger parts or higher throughput via batch production of smaller parts, which is particularly beneficial for medium-sized businesses and production environments that need larger models or increased volume without sacrificing precision.
Both printers are compatible with Formlabs' extensive range of proprietary resin materials that cater to different applications—standard resins for high-detail models, engineering resins for functional prototypes and durable parts, dental resins for biocompatible applications, and jewelry resins for casting molds. This versatility ensures that users across various industries can find a material that fits the requirements of their specific projects.
Formlabs printers are designed for seamless integration into workflows, with a user-friendly interface and PreForm software that simplifies print preparation. Users can easily orient, generate supports, and slice their 3D models within the software before sending the job to the printer. The software automatically suggests optimal orientations and support structures to ensure print success.
Once printing is initiated, the Form 3 and Form 3L employ a cartridge system for automatic resin dispensing, significantly reducing the potential for mess and the need for user intervention during the print process. Their closed ecosystems and air filtration systems minimize resin exposure and odor, enhancing the user experience and making these printers suitable for office environments.
Design and Build Quality
Formlabs printers have been praised for their aesthetically pleasing and professional appearance, which fits well in both educational and professional environments. The printers are constructed with high-quality materials that contribute to their durability and longevity, ensuring that they can withstand the rigors of frequent use. The devices are engineered with precision in mind, ensuring that each component functions optimally for the selective laser sintering (SLA) process.
The printer's footprint is compact, allowing it to fit on a desktop without monopolizing space, a significant advantage for users with limited room. Despite their small size, Formlabs printers do not compromise on the build volume, providing ample space for a range of printing projects.
Attention to detail is evident in the printer's structure, from the sturdy chassis that helps to minimize vibrations during printing to the cartridge system that allows for easy swapping of materials. The tactile and responsive touchscreen makes for a user-friendly interface that simplifies navigation and operation. This ease of use is amplified by Formlabs' proprietary software, PreForm, which streamlines the print preparation process, allowing for quick and efficient setup.
Advantages of the Formlabs Printer
High-Quality Print Results
Formlabs printers excel in delivering prints with exceptional detail and surface finish. The precision in layer resolution makes them ideal for intricate models and prototypes.
Range of Materials
Offering a variety of proprietary resins, these printers can produce parts in different colors and material properties, from rigid to flexible.
User-Friendly Software
The Formlabs PreForm software is a standout for its ease of use, allowing for intuitive model setup and support generation.
Community and Support
With an active user community and comprehensive support resources, users have access to a wealth of knowledge and assistance.
Disadvantages and Limitations
Cost
Formlabs printers are on the higher end of the price spectrum, making them a significant investment, especially for individual enthusiasts.
Operational Costs
The proprietary resins and regular maintenance add to the long-term costs of ownership.
Print Size Limitations
The build volume is relatively small, limiting the size of prints one can produce.
Effectiveness and Performance
In-house testing reveals that Formlabs printers consistently produce high-quality prints. They maintain accuracy and detail over repeated use, outperforming many competitors in the SLA market. User testimonials underscore the reliability and efficiency of these printers in various settings.