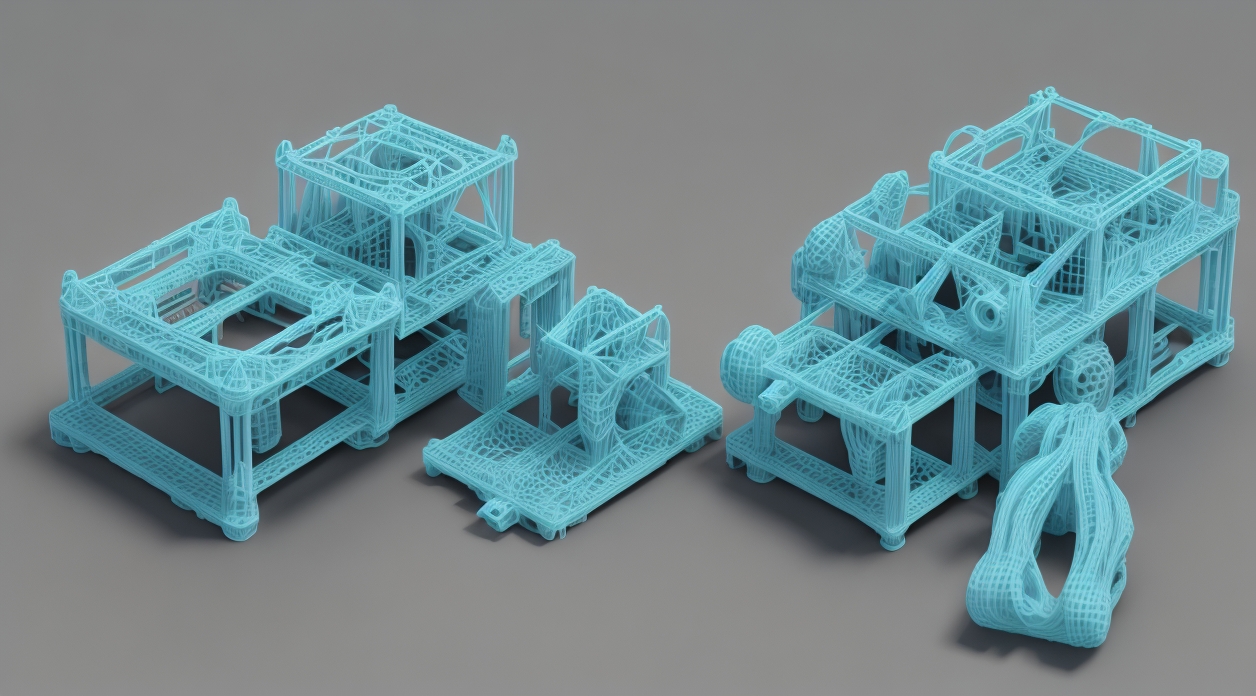 Let's establish a fundamental understanding of what 3D printing is. 3D printing, or additive manufacturing, is the process of creating three-dimensional objects from a digital design. It involves layering materials, one on top of the other, to build the final product. These materials, often in the form of filaments, powders, or resins, are key players in the 3D printing process.
Types of 3D Printing Materials
PLA (Polylactic Acid) is one of the most popular 3D printing materials due to its ease of use and environmental friendliness. Derived from renewable resources, such as corn starch or sugarcane, PLA is biodegradable and emits a sweet, corn-like smell when printed. It is an excellent choice for beginners and is commonly used in the creation of prototypes and decorative objects.
ABS (Acrylonitrile Butadiene Styrene) is a robust and durable material that can withstand higher temperatures. Its strength and resilience make it suitable for creating functional parts and components. However, it's worth noting that ABS emits fumes during printing, so adequate ventilation is essential.
PETG (Polyethylene Terephthalate Glycol-Modified) is a popular choice when durability and flexibility are required. It's known for its resistance to moisture and chemicals, making it suitable for creating containers, medical devices, and mechanical parts.
Nylon is prized for its high tensile strength and flexibility. It is an ideal choice for producing parts that need to endure wear and tear, such as gears, bushings, and bearings.
TPE (Thermoplastic Elastomer) materials combine the qualities of plastics and rubber, providing elasticity and durability. They are often used in creating flexible and soft objects, such as phone cases and medical prosthetics.
Resin-based 3D printing materials offer exceptional detail and surface finish. They are commonly used in stereolithography (SLA) and digital light processing (DLP) printers for applications like jewelry, dental models, and figurines.
Specialty 3D Printing Materials
When it comes to 3D printing, the possibilities are not limited to well-known materials like PLA and ABS. The world of 3D printing offers a wealth of specialty materials that cater to specific requirements and have the potential to revolutionize various industries. In this article, we will explore three remarkable specialty materials and the unique opportunities they bring to the table.
Conductive filaments are a technological marvel within the 3D printing world. Infused with conductive materials such as graphene or carbon fiber, these filaments allow you to create electronic components, circuits, and custom sensors. This opens up a universe of possibilities, from prototyping interactive devices to producing custom sensors for scientific research. Designers and engineers can seamlessly integrate electrical functionality into their 3D printed creations, paving the way for innovation in the realm of electronics.
If you've ever wished to 3D print an object that not only looks like wood or metal but also feels like it, wood and metal composites are the answer. By blending wood particles or metal powders with standard 3D printing materials like PLA, you can achieve a unique, textured finish that closely resembles real wood or metal. This opens up exciting prospects for creating artistic and decorative items, from intricately designed furniture to architectural models. These materials add an authentic touch to your 3D printed projects, blending aesthetics with function.
Carbon fiber filaments are renowned for their exceptional strength and lightness. They are the go-to choice for industries where structural integrity is paramount, such as aerospace and automotive applications, as well as high-performance engineering parts. When you need a 3D-printed object to withstand intense stresses while remaining lightweight, carbon fiber filaments deliver the perfect combination of strength and durability. Their versatility in various applications continues to drive innovation in these industries.
Factors to Consider
The purpose of your 3D printed object should be the foundation of your material choice. Determine whether it's meant to serve as a prototype, a functional part, or an artistic creation. Each of these applications may demand different material properties, so a clear understanding of your project's objective is essential.
3D printing encompasses various methods, including Fused Deposition Modeling (FDM), Stereolithography (SLA), and Selective Laser Sintering (SLS). Each method may require specific materials for optimal results. Familiarize yourself with the requirements of the 3D printing method you plan to use and ensure that your chosen material is compatible.
Assessing the mechanical properties of your selected material is crucial. Consider factors such as strength, flexibility, heat resistance, and durability. If you're creating functional parts, strength, and heat resistance might be your top priorities. In contrast, artistic creations may prioritize aesthetic qualities.
In an increasingly eco-conscious world, it's vital to evaluate the environmental impact of your chosen material. Some materials are biodegradable and sourced from renewable resources, making them more environmentally friendly. If sustainability aligns with your project goals, opt for materials that have a lower ecological footprint.
The cost of materials varies significantly. While some standard materials are budget-friendly, specialty materials, especially those with unique properties, can be expensive. Be sure to consider your budget constraints and weigh them against the specific material requirements of your project.
The Ever-Evolving World of 3D Printing Materials
The 3D printing landscape is in a perpetual state of evolution. With each passing day, researchers and innovators are pioneering new materials that challenge the existing boundaries of this technology. This relentless pursuit of progress has led to the creation of materials that were once considered the stuff of science fiction.
From biodegradable options that reduce environmental impact to materials that remarkably replicate the texture and feel of human skin, the possibilities within the world of 3D printing materials are boundless. Such advancements are enabling breakthroughs in fields ranging from healthcare to aerospace, offering exciting prospects for innovation and creativity.
This continuous evolution emphasizes the dynamic nature of 3D printing, making it an ever-inspiring realm where what was once deemed impossible becomes achievable. As technology continues to advance, it's thrilling to think about the countless uncharted possibilities that lie ahead, promising to reshape the future of manufacturing, design, and more.