Temperature Effects on 3D Printing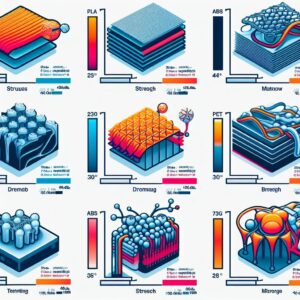 Temperature  holds a significant place when discussing factors that affect the efficiency of 3D printers. Being either too hot or too cold will have a direct impact on the printer's performance, often inducing inefficiencies and inaccuracies in the output.
Most 3D printers perform at their best in a controlled environment with a room temperature of around 20-23°C. This is because the printing process relies on the precise melting and extruding of filament material, which may vary depending on the filament type. A stable temperature within the stated limit enables the filament to work as expected, resulting in high-quality, accurate prints.
Warm environments or temperatures above the standard limit of 23°C can negatively impact the 3D printing process. Elevated temperatures cause the filament to soften more than desired. This state of the plastic causes the material to expand, which, when extruded through the printer nozzle, can lead to print deformities and inconsistencies. This outcome is primarily because over-softened filaments tend to ooze and sag making prints lose their shape and intended design.
If the temperature is too low or under 20°C, the filament can become overly brittle. This brittleness may affect the print's integrity and overall quality, resulting in a final product that can break or crack under little strain or impact. Low temperatures also result in poor layer adhesion, which can lead to print failures or warped outputs.
To ensure a controlled and optimized 3D printing process, it's importantl to maintain a stable temperature around the working area. You can achieve this by using thermal insulation to combat the influences of external environmental temperatures, especially during the colder months. A portable heater can also be a good investment to maintain the desired temperature range. Try to locate your printer in a place without draughts or sources of cold air as these could quickly lower room temperature.
Remember that temperature's effect on 3D printing does not end as soon as the print job is completed – cooling temperature can affect how the print settles. It's necessary to maintain an optimum temperature range throughout the entire printing process to achieve the best results. By making these adjustments to cater to the ambient temperature, you can significantly enhance your 3D printer's performance and output quality.
The Role of Humidity in 3D Printing
Humidity, often overlooked and underestimated, plays a big role in shaping the performance and quality of 3D printing. It is like a silent adversary, subtly having an impact without being loudly noticeable. When it comes to filament materials, such as Polylactic Acid (PLA) or Acrylonitrile Butadiene Styrene (ABS), humidity can wreak quite a havoc.
These materials are hygroscopic in nature – in simple terms, this means they have a propensity to absorb moisture directly from the surrounding air. When these filament materials ingest water, it results in serious consequences on the final print. The foremost issue that arises is inconsistent printing. The filament may not extrude uniformly, leading to uneven layers and a general lack of consistency in the print output.
Another problem commonly associated with moisture absorption is stringing. When the filament is heated during the printing process, any absorbed moisture turns into steam, creating pressure that forces small amounts of plastic out of the nozzle, leading to the creation of thin strands or "strings" between parts of the print that are supposed to be separate. Stringing degrades the overall aesthetics and finish of the final print, requiring additional time and effort in post-processing to remove these unwanted plastic threads.
The ravages of excessive humidity on filament materials are even direr. The filament's inherent properties could degrade as a result of chronic moisture exposure, leading to a reduction in the material's lifespan. Once a filament has significantly absorbed water, it can become practically unusable for achieving high-quality prints.
Effective humidity management, therefore, is a crucial aspect of 3D printing. To help combat the unwarranted effects of humidity, consider using airtight containers to store your filament. These containers prevent ambient moisture from interacting with the filament and help to preserve its quality.
Investing in a filament dryer, a device designed to purge humidity from filament material before use, can prove to be a beneficial move. Dry boxes for filament storage can also be useful, providing an environment which is consistently dry and soundly protecting the filament from atmospheric moisture.
Turning your attention to the printing environment, a climate-controlled room is an excellent option for keeping humidity at bay, especially in areas known for their high-humidity conditions. Using a dehumidifier in your printing area is another helpful approach. Dehumidifiers work by reducing the level of humidity in the air, creating an environment less affected by the negative impacts of moisture.
Through recognizing the potential detrimental effects of humidity on 3D printing and proactively taking steps to mitigate these, you can maintain the quality of your filament and invariably enhance the quality and consistency of your 3D printed outputs.
Air Quality and 3D Printing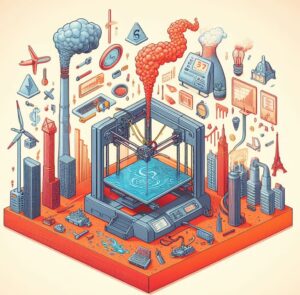 Air quality contributes to the overall success and safety of 3D printing processes. It's an aspect often neglected but carries an impact that affects both the performance of the printer and the health of the individuals working around it. Fine dust, airborne particles, and gaseous fumes make up the cocktail of components that hockey-puck air quality surrounding a 3D printer.
Accumulated dust and airborne particles are notorious for causing blockages in a 3D printer's nozzle, ultimately impacting the print quality. The printing process involves the extrusion of filament material through the printer's nozzle, which can clog if extraneous material is present. Even particles that seem microscopically small can obstruct the small diameter of a printer nozzle. This causes unevenness and inaccuracies in the printed design and can lead to complete printing failures in severe cases, wasting both precious time and resources.
For optimizing the printer's performance and maintaining a clean working environment, deploying air purifiers or fans in the printing area can prove to be beneficial. Air purifiers work by filtering out large amounts of dust and airborne particles, keeping the atmosphere clean and less inclined to contribute to printer blockages. Fans can also help by keeping dust and other particles moving so that they don't settle around the printer.
Another aspect of air quality in 3D printing is related to the potential emissions from the filament materials. Certain materials, like ABS (Acrylonitrile Butadiene Styrene), are known to emit volatile organic compounds (VOCs) and particulate matter during the heating and extrusion process. These fumes can cause discomfort, affect air quality, and potentially harm the health of individuals if consistently inhaled over an extended period.
To counter these emissions, providing a well-ventilated space for your 3D printer is important. This ensures that the fumes are not concentrated in a small area and promote better air circulation. Adopting fume extraction systems is another effective solution. These systems are designed to capture and filter out the fumes; ensuring that the air around the 3D printer remains clean and safe for individuals working around.
 Vibration Impact on 3D Printing
A well-calibrated printer should follow your design parameters down to the minutest details. Even with technologically advanced printers, an external factor such as vibration can significantly impact the accuracy of your 3D prints. Any source of external vibrations can sway your printer from its path of precision.
If your 3D printer happens to be located near high-traffic areas, or perhaps in close vicinity to heavy machinery, it may fall victim to unwanted vibrations. The constant movement of people, regular operating of machinery, or even the faint rumbling produced by some appliances can generate waves that resonate with your printer's components. The vibrations, although they may appear insignificant to the naked eye, are potent enough to disrupt the sensitive movements of the printer.
Even a less obvious vibration source such as loud music, particularly those with heavy bass, can produce enough shakes that may adversely affect the printing process. The travelling sound waves from the music can create just enough movement to jostle the machine. What happens next is a gradual deviation from intended calibration, leading to partial to significant accuracy loss in the printed object. This can result in finished prints that lean, wobble, or show layer misalignment, none of which are desirable outcomes.
The best way to combat the ill effects of environmental vibration on 3D printing is by ensuring that your printer sits on a solid, stable platform. Switching to a heavier and sturdy table can significantly reduce the amplitude of vibrations that reach the printer. The denser material absorbs much of the vibrational energy, preventing it from reaching the printer.
You should also consider the location of your 3D printer. Placing the printer away from direct sources of vibrations such as heavy machinery, high-traffic areas, or even large speakers will greatly minimize its exposure to disruptive vibrations. It could be worthwhile to designate a low-traffic, quiet area specifically for 3D printer placement.
By securing your printer's environment in this way, you can ensure that your 3D prints maintain the highest level of accuracy and quality. Irrespective of the design complexity, a vibration-free environment will help your printer deliver consistently accurate results, reducing print failures and wastage of filament. It's a simple measure, but one that yields high returns in the realm of 3D printing.