The integration of 3D printing technology into the construction industry is fortifying the foundations of modern architecture and home building. 
The process begins with a digital blueprint, a computer-aided design (CAD), that is meticulously crafted to ensure every dimension and contour of the proposed structure is accounted for. This model guides the printer, which methodically deposits materials such as concrete, polymers, or a composite, in successive layers. These layers gradually accumulate, rising from the ground upwards, forming walls, floors, and, with more advanced printers, even roofs and architectural details.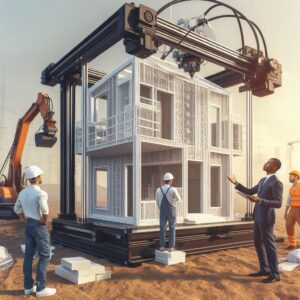 This additive manufacturing process stands in stark contrast to traditional construction methods, replacing the need for manual bricklaying and extensive labor with automated precision. By using concrete that is precisely mixed and quick-setting, structures can be erected much faster than through conventional methods. The concrete is typically enhanced with additives that improve its structural integrity and allow for a rapid build that hardens and cures quickly.
This technology drastically cut down construction time, often turning what would be months of labor into days or weeks and opens up a world of architectural possibility. 3D printing enables architects to defy traditional constraints in design—curves, cantilevers, and other complex shapes are just as easy to print as straight walls, which often require complex formwork in conventional construction. Intricate designs that were once dismissed as too costly or difficult to achieve can now be created without substantial additional expense.
The cost-efficiency of 3D printed homes extends far beyond design flexibility. The precision of the process results in minimal waste, as the printer deposits the exact amount of material needed for each section of the build. This responsible use of materials leads to cost savings and reduces the environmental impact of construction, a sector historically fraught with inefficiency and excess.
The simplicity and effectiveness of 3D printing in construction suggest a future where houses and buildings can be made more accessible, more creative, and more attuned to the specific needs of their inhabitants. With the development of this technology, we envision an era where inspirational design and affordability coalesce, forging new pathways in the journey of home building. 
Material Innovations and Sustainability
The transformative power of 3D printing in construction hinges significantly on material innovation, particularly as the world accelerates its shift toward sustainable practices. In the context of construction, sustainability is measured not just by the ecological footprint of building activities, but also by long-term impact of the materials used on the environment.
3D printing contributes to sustainable construction in several ways. By employing precise printing technology, it ensures that every drop of material serves a purpose, directly translating to less waste during the building process. Traditional construction methods often involve cutting standard-sized materials to fit specific needs, which generates sizeable offcuts that are discarded. 3D printing circumvents this problem by creating structures that are exact to specification. This benefit is even more pronounced when considering large-scale projects – what typically might amount to tons of surplus material can be reduced to a negligible quantity when additive manufacturing is utilized.
In terms of the materials used, innovators in the field are constantly experimenting and expanding the repertoire of inputs suitable for 3D printing. Many of these materials are engineered with an eye towards their life cycle impacts, including the ability to be recycled or repurposed at the end of their useful life. Recyclable composites, provide the dual benefits of strength required for structural components and the potential to be broken down and reused.
One of the most exciting developments in this domain is the creation of novel concrete mixes optimized for 3D printing. These mixes are designed to cure faster and offer superior structural integrity and reduce carbon emissions associated with cement production. Some mixtures incorporate industrial byproducts like fly ash or blast furnace slag, which would otherwise be destined for landfill, repurposing these waste materials into valuable construction resources.
Further pushing the boundaries are advanced concretes with the remarkable capability to 'self-heal.' Embedded with specific agents, such as bacteria that precipitate calcite, these concretes can autonomously repair cracks that develop over time, thereby prolonging the structure's lifespan and cutting down on maintenance requirements. The incorporation of thermal materials is also being explored to enhance energy efficiency in 3D printed buildings, helping regulate indoor temperatures and thus reducing reliance on heating and cooling systems.
As well as these innovative materials themselves, the processes used to create them are under continuous refinement to minimize energy consumption and pollution. 3D printing technology encourages local material sourcing to further reduce the environmental impact of transportation – a tenet that can bolster local economies and decrease the carbon footprint associated with long-distance shipping.
Cost Analysis and Economic Implications
The advent of 3D printed homes brings with it a fresh perspective on the economics of construction.The advantages of 3D printing in the housing sector are immediately evident in cost savings. Considerable efficiency gains and material conservation directly translate to a reduction in the overall cost of construction, which can make housing more affordable and accessible.
One of the chief areas where 3D printing excels is in its frugal use of materials. By using precisely the amount of material required for each section of the structure, 3D printers nearly eliminate the excessive offcuts and unused materials that are conjunctive with traditional construction. The cost savings from reduced material waste alone are substantial, considering waste accounts for a significant portion of overall construction costs. When 3D printing a house, the printer follows a digital blueprint to the letter, which maximizes material efficiency and produces minimal waste.
The automation of 3D printing permits significant labor cost savings. Manual labor is one of the primary costs in conventional construction, with large teams often required for building projects. In contrast, 3D printing requires a smaller workforce to manage and supervise the construction process. The printers autonomously carry out the bulk of the building work, allowing labor to be reallocated to more skilled tasks like monitoring the print process or finishing and fitting once the primary structure is complete. 
This transition to a more automated construction process comes with far-reaching economic implications. The industry may experience a shift in the workforce as the demand for traditional construction skills changes and new roles centered around 3D printing technology emerge. This could mean a realignment of the job market with a need for retraining and education, reflecting the updated demands and skills necessary for modern construction.