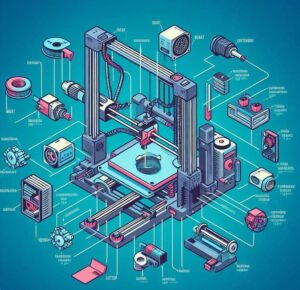 The core machinery is only the beginning. Accessories – the bells and whistles of 3D printers – are transformative elements that extend and amplify the capabilities of the printers, pushing the boundaries of what can be achieved. The role of these peripherals in 3D printing cannot be understated, they are key to refining the printing process, maintaining equipment, and producing higher quality outcomes.
At the frontline of these enhancements are the various monitoring tools, such as cameras and sensors, which serve as the vigilant guardians of print quality. Real-time monitoring accessories, often enabled through wireless technology, empower users to keep an eye on their 3D prints from anywhere, anytime. This remote capability ensures that users can immediately intervene when a print goes awry, saving time, resources, and frustration. For those who strive for efficiency and precision, automation accessories are the foundation.
Accessories also cater to the aesthetic and user-experience aspects of 3D printing. LED lighting systems  illuminate the print area for better visibility and also reveal issues with print layers that might otherwise go unnoticed. Noise reduction gears and materials make 3D printing more office and home-friendly, addressing one of the common complaints about the technology.
Accessibility to a variety of accessories also means that 3D printing systems can be tailored to specific workflows and industries. A home enthusiast might prioritize a different set of tools compared to a small business specializing in prototyping, pointing to the customizability offered by these enhancements. The ability to personalize and upgrade one's printer with a selection of purposeful accessories can unlock new applications and methods. It can be the difference between a print job that's sufficient and one that truly stands out with professional-level detail and finish.
The role of accessories in 3D printing is to serve as enablers of innovation and experimentation. They provide a runway for users to test the limits of their creativity in a more controlled, effective, and sophisticated manner. For many in the 3D printing community, the right accessory make life easier and opens new avenues for creation and discovery. In much the same way that a smartphone benefits from a well-chosen app, a 3D printer becomes more than just a tool—it becomes a gateway to uncharted territories of making and manufacturing. As the ecosystem of 3D printing continues to mature, it is these accessories that will drive personalization, efficiency, and quality to the forefront of the user experience.
Cameras – Eyes on Your Prints
In the landscape of 3D printing accessories, camera systems occupy a special niche. They serve as vigilant sentinels, giving users the power to oversee their print jobs from a distance. This remote monitoring is a matter of convenience and represents a critical shift toward more automated, lean, and flexible 3D printing practices.
The ability to detach oneself from the immediate vicinity of the printer without losing oversight is liberating for 3D printer operators. A camera system eliminates the need for constant physical presence, saving countless hours that would otherwise be spent supervising the progress of a print job. Now, in another room or on another continent, users can use their smartphones, tablets, or computers to check in on their projects.
This omnipresence is perfected through the integration of cameras with advanced software platforms. Sophisticated slicing and printer management software can intelligently interface with the camera feed, employing algorithms to detect anomalies in the printing process. Should an error be detected—such as the print detaching from the bed, filament tangling, or the nozzle clogging—the software can send real-time alerts to users. This early warning system enables users to pause or stop the printer remotely, preventing the waste of materials and time that failed prints represent.
Time-lapse photography is another celebrated function of camera systems in 3D printing. It condenses hours of slow, meticulous layering into a short video that captures the essence of the creation. Makers and businesses alike use time-lapses to showcase their designs on social media and video platforms, adding a dynamic and visually appealing element to their online presence.
Developers are continually evolving the capabilities of camera systems. Innovations such as AI-driven image analysis now promise even greater advances, like predictive error detection and automated quality grading. Such intelligent systems could scrutinize a print in process, comparing it against the digital model and historical print data to anticipate problems before they occur.
Cameras augment the 3D printing experience to such an extent that they are now considered by many to be an important  component—almost as crucial as the printer itself. With a camera system, the 3D printer transcends its status as a standalone piece of hardware to become part of a connected, smart workflow. This synergy of hardware, software, and visual feedback loops drives the modern era of 3D printing, one where continuous monitoring and improved outcomes are everyday realities.
Enclosures – Creating the Perfect Print Environment
The deployment of an enclosure around a 3D printer transcends basic utility  it becomes a microenvironment, an ecosystem tailored for optimal printing. Enclosures do more than cover a printer, they shield and nurture the printing process from start to finish, leading to higher quality prints, especially for materials like ABS, Nylon, and TPE, which can warp or fail when exposed to drafts or temperature changes.
One of the most critical benefits of an enclosure is the stabilization of temperature. By keeping the air around the print warm and static, the printed layers cool more slowly and evenly, vastly reducing the chances of warping and cracking caused by thermal stress
Noise reduction is another advantage of utilizing an enclosure. Printers, especially those with high-speed movements and metal-on-metal components, can produce a fair amount of sound that can be intrusive in quiet environments.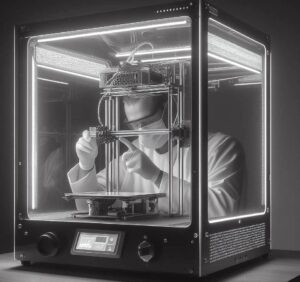 The health aspect of operating 3D printers, particularly those that process materials emitting fumes or ultrafine particles, is also a concern that enclosures address. By containing and minimizing the exposure to these emissions, the user's environment remains safer. Some enclosures even come equipped with filters or ventilation systems designed to actively remove or degrade these harmful emissions.
When it comes to acquiring an enclosure, there's a range of options available to suit different needs and budgets. Pre-made enclosures offer convenience and often come with specialized features such as integrated fans, filtration systems, or easy-to-use access doors. These professionally manufactured enclosures are designed to fit specific printer models, ensuring a seamless and aesthetically pleasing experience.
The DIY route allows for greater customization and the flexibility to fit a wider range of printer sizes. For the hands-on enthusiast, constructing an enclosure from scratch using materials like acrylic provides a clear view of the printing process and a sturdy barrier against environmental interference. Polycarbonate is an excellent choice for those looking to strike a balance between strength and weight, and it can achieve a high level of temperature stability with its insulating properties. Wooden frames, on the other hand, offer a robust structure and natural look but may lack the insulating qualities and transparency of acrylic or polycarbonate.
Regardless of which path is chosen, the advantages of a well-designed enclosure are irrefutable. They serve to protect and preserve the integrity of the print and printing conditions and elevate the safety and functionality of the 3D printing experience. With an enclosure in place, printers can operate in more diverse environments and tackle a broader range of materials, turning a simple machine into a versatile and reliable manufacturing hub.
Shedding Light on Detailed Work
Lighting plays a big role in both the functional and aesthetic aspects of 3D printing. When embarking on a journey of precise creation, the ability to clearly see the work in progress is paramount. Adequate and well-arranged lighting ensures that any issues with the print can be identified promptly, allowing for quick intervention. Proper illumination can be viewed as a tool of both prevention and inspection—preventing printing errors by enhancing the visibility of each layer as it's deposited and allowing for the detailed inspection of completed models to check for any flaws or imperfections.
From a practical standpoint, dedicated lighting systems can take many forms, tailored to the layout and needs of individual printing setups. LED strips, popular for their low energy consumption and long lifespan, offer a bright and consistent light source that can be easily affixed to the frame of a printer. Their versatility and ease of installation make them a go-to choice for many 3D printing enthusiasts looking to illuminate their print area.
For users who require more focused lighting, adjustable spotlight systems provide the means to direct light precisely where it is needed. These fixtures are invaluable when dealing with detailed, intricate designs where shadows and poor lighting can obscure critical aspects of the model. By providing directional light, they can reduce glare and offer a clearer view of the print's surface, aiding in the detection of any potential layer misalignment or surface irregularities as they occur.
Some advanced lighting systems may incorporate magnifying elements or be attached to articulated arms, offering the flexibility to position the light at the best angle and to magnify the view of specific areas, all without the need to move the printer or the printed object. This can be particularly beneficial for post-processing work, where fine details are sanded, painted, or assembled.
Lghting also contributes significantly to the aesthetics of the printing environment. It sets the mood and defines the space, transforming a utilitarian area into an engaging and dynamic showcase. Bright, well-designed lighting accents can turn a 3D printer from a simple tool into the centerpiece of a workspace, catching the eye and drawing attention to the marvel of the additive manufacturing process as it happens.
For hobbyists and professionals alike who choose to share their work on streaming platforms or social media, lighting becomes even more crucial. Proper illumination can drastically improve the quality of videos and photos, offering viewers a better and clearer perspective of the creative process. Refined lighting setups can illuminate the intricacies of prints in high definition, bringing out textures and layers that might otherwise go unnoticed, thus enhancing the viewer's experience and engagement.